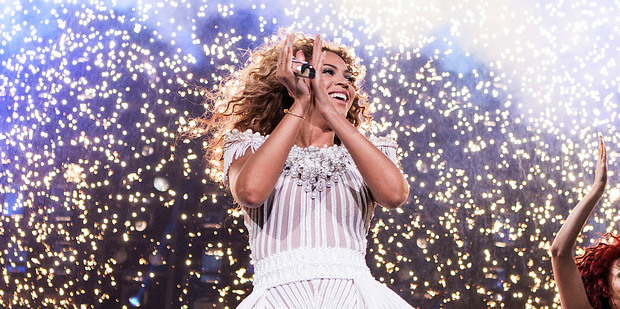 Beyonce has added a fourth and final show to her Vector Arena season, which, if it sells out, will make her the biggest music act in the Auckland venue's history.
Roger Waters played his The Wall show to a fully seated audience over four nights in 2012. But Beyonce's concert has standing-room only on the arena floor, meaning she will likely beat Waters on audience numbers and possibly top more than 50,000 paying punters across the four dates.
Beyonce starts four consecutive nights with the newly announced concert on Wednesday October 16 - the first show going on sale last means, in theory, the pop superstar will be playing her opening night to those New Zealand fans who wanted to see her the least.
Though it's likely tickets for that opening night will sell out just a fast as the previous three Vector shows which sold out within minutes of going on sale.
Beyonce has also sold out four-night runs in Sydney and Melbourne among the 18 dates on the Australian and New Zealand leg of her Mrs Carter world tour.
Promoters are hoping the announcement of the new show will cool the market in scalpers on-selling tickets on TradeMe.
A look at the auctions yesterday showed only small profits were being made by those flogging off unwanted tickets, while a couple of sellers are still pitching pairs of platinum tickets - original price $250 each - with "buy nows" of $1000.
Meanwhile, Beyonce's support act on both sides of the Tasman has been confirmed as American-based Australian rapper and model Iggy Azalea.

Beyonce's last show tickets when and where
Friday 11am: Pre-sale for registered members of the BeyHive Blog fanclub
Monday 11am: MasterCard cardholders can access pre-sale tickets from livenation.co.nz
Tuesday 11am: My Live Nation members can access pre-sale tickets from livenation.co.nz
Wednesday 11am: Ticketmaster pre-sale