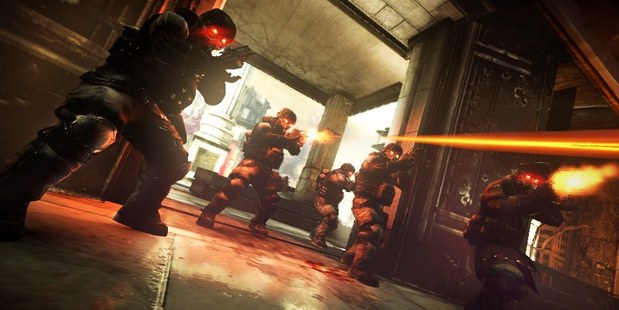 If you missed my first hands-on with Killzone Mercenary, or just want a refresher, let's quickly go over the basics. Killzone Mercenary is a brand-new installment in the long-running PlayStation exclusive first person shooter series, crafted this time around for Sony's struggling PlayStation Vita handheld.
When I played the game at E3, I was impressed; after playing through the latest demo, I'm blown away. This really is the top-shelf game that Vita owners probably gave up waiting for ages ago, before selling their systems and moving on. Ahem.
Anyway. The point is, Killzone Mercenary is looking very much like it will be everything Call of Duty Black Ops Declassified isn't (i.e. really good, polished, and worth playing.) It might seem harsh to refer to a nearly year-old game like that, but what other options do Vita owners have? As Scribe would say, not many - if any.
The gist of Mercenary is pretty simple; set after the events that transpired during the first Killzone, the story revisits many key plot points raised in the main trilogy - albeit from an all-new perspective.
In Mercenary, you see, you play as . . . a Mercenary! A gun for hire, your services are alternately acquired by both sides in the conflict (the ISA and the Helghast); the goal is to make money, not friends. You then spend this money buying guns and things in order to more effectively execute your objectives.
The mission in the demo is multi-faceted; you first have to assault a base, flip some switches, and then get out alive. There's a bunch of neat twists in there, but to avoid spoiling the story, I'll omit the details. The point is, it's all nicely presented (with both in-game and movie-type cinematics setting the scene), and provides enough context to keep the adrenaline flowing without being particularly original. It's good.
What's great about the game is the sheer number of options at the player's disposal. I died a bunch of times, and played through it a bunch of times, too, which gave me ample opportunity to explore and experiment. From the typical run 'n' gun approach to full stealth, everything's possible; you can sneak around, look for a higher path, plan your kills strategically to minimize risk, or just buy the biggest gun and make with the explosions. The addition of a minimap that shows not only the location of the enemies but also their alert status and facing direction might sound like a cheat, but instead it opens up the gameplay and affords you many more possibilities than you'd have without it.
There's also hidden stuff to find, which - in addition to filling in some of the back story - rewards you with bonus cash (something you'll need for guns and also to increase or even maintain your ranking), minigames, and the opportunity to interrogate high-ranking soldiers for even more intel / bonuses - if you're good enough to pull it off, of course.
In my first encounter with the title, I was impressed by the various graphics tricks and effects employed the bring the visuals to life; if anything, these clever techniques are even better implemented in this new demo. The game looks, quite simply, astonishing. Depth of field, bloom, silky animation, self shadowing, and all sorts of lighting effects combine to create something that really wouldn't be out of place on a console. Sure, the textures are lower resolution than you might see on your telly, but it really is quite amazing to see on a handheld.
The controls are fantastic, too. About the only issue I had with them was in adjusting to the feel and location of the Vita's thumbsticks (they really are quite odd, compared to a DualShock.) In particular, the way in which the Vita's special abilities augment the stuff you'd normally expect (twin sticks, usual button usage, etc) is smart, intuitive, and - above all - very welcome.
Take the touch-screen based melee stuff, for example: on electing to melee an opponent, an arrow will appear on the screen that lines up with what will happen - should you pull off the attack correctly. All you need to do is swipe in the indicated direction and voila; grisly enemy death occurs in gory up-close detail. Necessary? Nah. But it is pretty cool.
Another genius usage of the Vita (and something you could do on a console shooter, too) is the (optional) use of the motion sensor to fine-tune aiming when you're zooming in (like with a sniper rifle.) You can still take full control with the analogue sticks, but fine-tuning your shot by tilting the console around makes so much sense you'll probably find you're doing it anyway. The implementation is, quite simply, perfectly executed.
There were still a couple of little things that weren't quite up to the standard of the rest of the experience, but given the game isn't finished yet, and that everything else is so great, it's fair to give Guerrilla Cambridge better than average odds of sorting them out before the game appears on shelves in September (or shortly thereafter in a patch.) Little things like an overly spikey difficulty ramp, or an AI clipping through a wall - that sort of stuff. Nothing major, but when the rest of the package is this good, they stick out.
If you've still got a Vita, then (and you should, it really is a great device - and you can get 'em pretty cheap if you look around), and you like the idea of playing a console-quality FPS wherever you happen to be, you absolutely must keep an eye out for Killzone Mercenary. It's looking every bit like the real deal, and seems unlikely to be any kind of watered-down experience. In fact, the new ideas and gameplay already seen suggest it might even drive the genre forward, regardless of its portable form-factor.
Platform: PS Vita
Release date: September 10