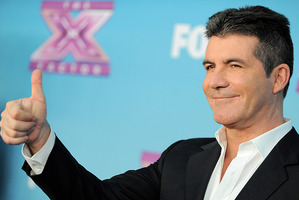 Reality TV judge Simon Cowell is expecting his first child with the wife of a good friend, a report says.
The acerbic 53-year-old British judge on shows like American Idol and The X-Factor is fathering the child with Lauren Silverman, 36, who is married to Cowell's close friend, New York real estate mogul Andrew Silverman, People magazine said.
The Silvermans have reportedly filed for divorce.
"Lauren and Andrew have been unhappy in their marriage for some time, and their divorce has been in the works for a while,'' a source told Us Weekly.
"As their marriage deteriorated, she and Simon became close."
Cowell and Silverman have often been seen on vacation together and the 36-year-old brunette is a regular during his annual trip to St Barts.
Meanwhile, an assistant to Simon's representative called the matter "sensitive", telling People: "This is a very sensitive issue and all media enquiries are being dealt with by his U.S.
attorney."
Comedian David Walliams appeared to confirm Cowell's baby news on Twitter.
He wrote: "Oh yeah, and @SimonCowell is doing a baby with a lady."
Walliams - who recently welcomed his first child with wife Lara Stone - then jokingly added: "For the record @SimonCowell and I tried to have a baby together for many years.
But I just couldn't get pregnant."
While Simon was previously against the idea of fatherhood, he revealed a change of heart last year.
He said: "I do really, really like kids, because I can talk to them and listen to them. The problem has always been how much time you need to devote to bringing up kids. I've always dedicated all my life to work, and at 52, I've probably missed the opportunity."
- AAP and Bang! Showbiz