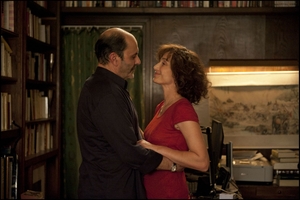 A gentle comedy from the prolific French screenwriter and director Pascal Bonitzer, Looking for Hortense will appeal to those who appreciate superb acting and a beautifully filmed Paris.
Bonitzer's drama-comedy (or dramedy) is a pleasant but largely underwhelming film about the separation of a middle-aged couple. The script, written with co-writer Agnes de Sacy, is well crafted and for the most part authentic, and, as usual, it's hard to take your eyes off Kristin Scott Thomas, who does her best to make chain-smoking look cool.
Though fans of Scott Thomas will be disappointed to learn her character Iva is not the main player. A theatre director tempted into an affair by her leading man, Iva is cast out by her long-term partner, Damien Hauer (Bacri), and returns only sporadically to their apartment to see their son Noe.
Looking for Hortense focuses on the unravelling of Damien. Disillusioned with his job teaching Chinese customs to French businessmen and resigned to having a self-centred wife he never sees, his relationship with Iva reaches a tipping point when she demands he ask his estranged father for a favour.
Waiting in the wings and adding some colour are the fragile and mysterious Aurora (Isabelle Carre), whom Damien meets in a bookshop, and Damien's father, the delightfully unpredictable Sebastien, played by Claude Rich. They, along with others, add welcome subplots to a relationship crisis that's drawn out and doesn't have much new to say.
Stars: 3/5
Cast: Jean-Pierre Bacri, Kristin Scott Thomas, Isabelle Carre
Director: Pascal Bonitzer
Running time: 100 mins
Rating: M (offensive language, sexual references and drug references)
Verdict: A pretty and pleasant Gallic mid-life crisis
Follow @nzherald_ent on Twitter for all the latest entertainment news.
- TimeOut