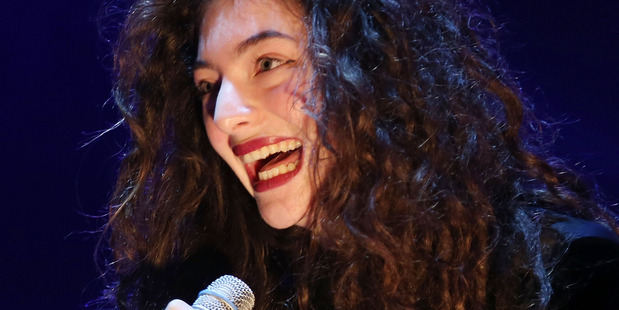 She only stepped in at the last minute to fill in for a sick Frank Ocean, but Lorde has received nothing but praise for her Splendour in the Grass performance.
The up-and-coming Kiwi singer was at a party in Auckland on Friday night when she got a call to replace Ocean - who suffered a small tear to his vocal chords - at the three-day Australian festival.
"I said ... okay," the 16-year-old told The Australian, and found herself playing to up to 25,000 people in the venue's heaving Supertop at 5.30pm on Sunday.
And Lorde - real name Ella Yelich-O'Connor - has had rave reviews for a performance that included Royals, Bravado, The Love Club and her latest single, Tennis Court.
"In quiet awe Lorde greeted the crowd with a beaming smile and a flick of those distinctive waist-length curls," wrote fasterlouder.com.au's Sarah Smith.
"She had them in the palm of her hand mid-way through opener Bravado, in raptures when she reached Tennis Court and in love when she finally dropped Royals ...
"If she was nervous to be standing in front of 25,000 frothing fans a mere two months since playing a 300-capacity room in Melbourne, she certainly didn't show it."
Reviewer Lucy Slight from MTVnews.com.au said the performance confirmed Lorde was "destined for nothing but greatness".
"With just a producer/DJ and a drummer accompanying her on stage, Lorde was the complete centre of attention, dressed casually in black jeans, flat boots and a black tee - looking oh so effortlessly cool and unaffected," Slight wrote.
"The teen undoubtedly attracted one of the biggest crowds for her early timeslot, with the Supertop tent so jam-packed with people that punters trying to get around the edges had no choice but to stop and take in the Auckland high school student's incredible vocal talents."
The West Australian reviewer Simon Collins called Lorde's performance of her smash hit Royals "magic" and concluded that: "A star is born."
Lorde told the crowd the experience was "mental" and later tweeted that she had enjoyed the show, saying she "loved every minute".
such kind words and happy vibes here tonight. thankyou for having me, splendour. loved every minute

— Lorde (@lordemusic) July 28, 2013
and being able to see musicians who inspire me so much in that environment is a kind of magic. anyways goodnight, gotta rest my toes ??

— Lorde (@lordemusic) July 28, 2013
Use the audio player below to listen to part of Lorde's Splendour in the Grass performance, courtesy of Triple J/YouTube:
- nzherald.co.nz