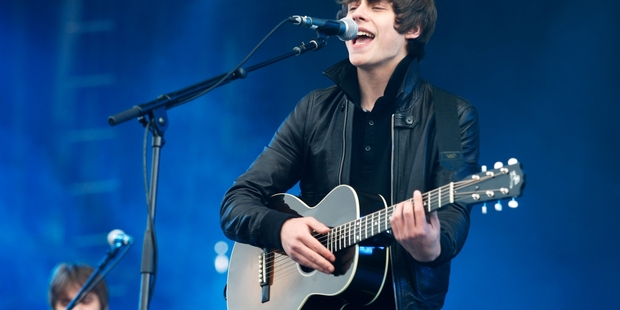 Jake Bugg has been hailed the latest saviour of British guitar music for good reason.
His self-titled debut album went straight to No. 1 in the UK charts last October, knocking Mumford & Sons off the top spot and fending off competition from X Factor star Leona Lewis.
In the past 12 months he's supported the Stone Roses, the Rolling Stones and Noel Gallagher - the Oasis man is his most outspoken supporter - and has been described as a modern-day Bob Dylan.
Many 19-year-olds would either wilt or combust in the midst of such attention, but Bugg was always prepared for fame, confident his Britpop-evoking folk-rock would eventually find an audience. He just didn't realise how quickly.
Raised on a council estate in Nottingham, Bugg started playing music at the age of 14 after his uncle gave him a guitar. He dropped out of school two years later and retreated to his bedroom to write songs, simply because he couldn't afford to go out or do anything else.
It gave him a chance to say things he felt uncomfortable discussing among friends and family, with many of his resulting songs skirting around his dreams of escape.
"For me, it can be hard to talk about emotions or how I'm feeling, so music works as a way to get that out in a way I feel comfortable with," Bugg says over the phone - and yes, that is his real name.
"Whenever I sing one of my songs now I always try and put myself back where I was when I wrote it, so the album felt right to me, and if anyone else thinks the same it's just a bonus."
Bugg shrugs off the constant comparisons with music icons - Dylan as a songwriter, Liam Gallagher more for attitude and style - describing them as "lazy and generic".
While not dismissing the artists themselves, his greatest inspiration is the more genteel songwriting of Don McLean, whose song Vincent (Starry Starry Night) he discovered while watching an episode of The Simpsons.
"He was the first person I heard a piece of music from that gave me the aspiration to listen to more," explains Bugg.
"He had a lot of songs I liked but I couldn't understand why I liked them. I was young at the time and none of my friends were listening to him so I thought I must be on to something."
Still focused on the art of songwriting rather than the trappings of celebrity, keeping a tight circle has been a big part of Bugg's grounding.
He let his family pick the song order on his album and wears his humble upbringing proudly (in spite of various fashion and advertising deals and rumours of a supermodel girlfriend).
Tales of teenage scrapes run through Bugg's powerhouse debut, most graphically on Seen It All, which recounts him witnessing a stabbing at a party while on drugs at the age of 16. It speaks for itself.
"That's how it happened more or less. If I was to try and explain the song to you it would be a worse description than the song itself," he says.
"It was a bit crazy and I wasn't really used to any of that stuff. But even though it was a terrible experience, I got something out of it. I got a song."
Jake Bugg
Where: The Powerstation, Auckland
When: July 30
Follow @nzherald_ent on Twitter for all the latest entertainment news.
- TimeOut / AAP