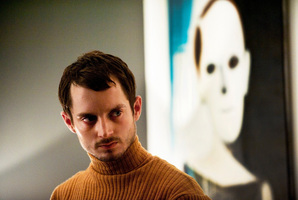 A serial killer horror flick starring Frodo himself, Elijah Wood, has been banned from being released in New Zealand after its film festival screenings.
The Office of Film and Literature Classification has classified Maniac to festival-only screenings, meaning the film can't be released on DVD at a later date, a decision the movie's distributor says "is an open invitation to illegally pirate the film".
Under a festival-only R18 classification with warnings about "graphic violence, sex scenes, content that may disturb", Maniac is due to screen at the NZ International Film Festival in Auckland on Saturday and next Thursday as part of the event's Incredibly Strange programme.
The film is a remake of the 1980 serial killer horror film which was heavily criticised for its sexual violence. The new version is shot from the killer's point of view (POV) which means Wood is off-camera for the most part, apart from shots of his hands and occasional reflections in mirrors.
Incredibly Strange programmer Ant Timpson disagreed with the ruling.
"The OFLC decision says that the film may be 'injurious to the public good' if it goes out on a wider release. It's saying that the POV nature of the film mixed with the psychopathic behaviour of actor Elijah Wood is more than disturbing, that it's potentially dangerous in the hands of the wrong person. That is, a non-festival goer."
Neil Foley of Australian based distributor Monster Pictures described Maniac as "one the finest horror films in recent years" citing its screening at the Cannes Film Festival last year.
"Banning the film beyond festival screenings is an insult to the intelligence of the adult population of New Zealand and does little more than to serve as an open invitation to illegally pirate the film. We are flabbergasted."
Maniac has received mixed reviews from both critics and slasher movie fans since.
It's not former Hobbit Wood's first foray into psychopathic characters post-Lord of the Rings having played a cannibalistic serial killer in Sin City. He told The Independent the POV delivery of Maniac by French director Alexandre Aja intrigued him.
"I don't typically love horror film remakes or remakes at all for that matter. There are exceptions, but I think what was so interesting about this was that I knew going into it that it was going to be done in a completely different way."
"It was an interesting opportunity for me as an actor. I think everyone saw it for the strange little art horror movie that it was."
The festival-only ruling is the first issued by the OFLC since The Bridge in 2007.