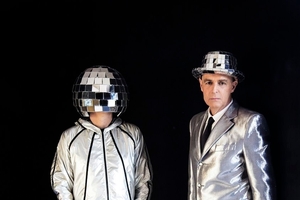 The old boys can still boogie, in their own stand-on-the-spot, tap-your-toe, and pat-your-thigh kind of way. But don't let that stop you from getting down to what is Neil Tennant and Chris Lowe's most banging, dancefloor-inspired offering in their 30-year career.
And although Electric is not on a par with 1987 classic Actually and nothing here recalls the musical grandeur of It's a Sin (their best song), it's the best Pet Shop Boys album since 1990's Behaviour.
With British producer Stuart Price (aka the beat maker with many aliases, including Jacques Lu Cont) on board, his house and electro influence comes through right from the start on galactic, surging opener Axis.
Then there's the stealth techno of Fluorescent, Bruce Springsteen's The Last to Die gets a rousing house music reworking, and Shouting in the Evening is a bonkers distorted beat frenzy.
Yet Electric is still very much the Pet Shop Boys.
Tennant's unextraordinary, yet utterly unique, voice is humming on the playful and bouncy Bolshy and only he (or Morrissey, perhaps) could get away with singing a song called Love is a Bourgeois Construct, a banging baroque house track that's one of the highlights, despite the title.
Stars: 4.5/5
Verdict: Their best album since 1990
Click here to buy Electric by Pet Shop Boys.
Follow @nzherald_ent on Twitter for all the latest entertainment news.
- TimeOut