Online ad agency recruits celebs, but tweets rarely up to scratch.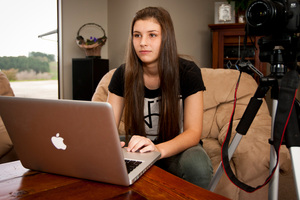 Dan Carter and Jerome Kaino are celebrity clients, and Ali Williams is an investor. The All Black stars are just a few big names signed to a social media agency that's redefining the rules of engagement on Facebook and Twitter - including paying for product endorsements.
Decoded, founded by 32-year-old ad guru James Polhill and radio DJ Jay Reeve, is the largest network of celebrity publishers in New Zealand. Williams, through his company Six Seven, is a shareholder.
"We spark authentic conversations between celebrities, athletes and their fans about brands they love online," Polhill tells The Diary.
But that love costs. How much for a Twitter celebrity endorsement? Polhill won't be specific, only saying: "We monetise the conversation between a corporate brand and a celebrity's influence."
It's friends with strategic benefits. Brands win and personalities win, but when is that conversation disclosed as internet advertising?
Celebrities and people with large followings on social networks often promote a product or service, but it can be difficult to know if it's an authentic plug, or if they were paid to say nice things about it.
Carter tweets about adidas Predator rugby boots. Kim Kardashian loves her Eos lip balm so much, she was allegedly paid up to US$20,000 ($25,000) to tweet about it.
The US Federal Trade Commission is cracking down on celebrities who shill on Twitter. Endorsements as advertisements need to be disclosed under federal laws; the word "ad" required to preface a tweet. But celebrities pay little heed.
A rep for New Zealand's Advertising Standards Authority says if using paid-for Twitter endorsements the hashtag #ad is normally required, but admits no penalty has been enforced. "It's early days in this field and there has not been a huge momentum of celebrities getting paid for tweets in New Zealand, but as a guidance note it is easily updateable."
For Carter, paid online plugs are now part of the strategic online campaign generated by his social media agents Decoded. They launched him on Twitter last year and recently migrated and verified his online accounts. His brand has global engagement reach.
TV3 gloats that X Factor has "become the most socialised television show in New Zealand", boasting staggering online engagement levels. But the real test is what the network will do now with those engaged followers and how they'll keep the conversation alive. How will Jackie Thomas use social media to her advantage to further launch her career?
Carter has one of the largest Twitter audiences in NZ - 224,414 followers and counting. Teenage internet phenomenon Jamie Curry, from Hawkes Bay, is not far behind on 115,700. Both are represented by Decoded. And both are fast becoming their own online media channels.
Henry to rescue for TV3?
In four weeks TVNZ will start screening Home and Away, the babes-and-boardies soap artfully purloined from rival TV3's clutches.
MediaWorks has a struggle to quickly find a replacement. A well-informed insider at the network told The Diary a short-term solution is being met, but a long-term game plan is likely to involve Paul Henry in that timeslot.
Henry told The Diary this month he'd prefer a late-night hour where he can be himself and use "more liberal language". But in a meeting last week with TV3's news boss and head of television, Henry was told: "You did it at 8am, what's stopping you at 5.30pm?"
Quite what form a Henry-hosted show would take as a headline act to 3 News is up for debate, but a senior source at the network said, "game shows like Millionaire Hot Seat, or chat shows like Ellen, work best in that timeslot". I'd have thought that would be a waste of Henry's ample talents.
Rich List adds 'riff-raff'
The NBR Rich List (which comes out on Friday) has sometimes been panned for not always accurately gauging the true wealth of entrants. "They have no clue of my actual wealth," scoffed one high-ranker to The Diary on condition of anonymity. "It's just a best guess, and not a very good one."
With much of his assets tied up in trusts, the old-school scion looks down his nose at who the magazine has let in this year.
This includes brothel barons John and Michael Chow, who are new entrants with an estimated fortune of $50 million. Who knew porn and property could prove so profitable?
Victoria Ransom, the much-profiled, photogenic princess of Silicon Valley, is also a newcomer to the register with an estimated fortune of $300 million.
The Anselmi family, cobblers from Hamilton, are new too, with a $50 million fortune thanks to their Overland and Mi Piaci footwear retail chains.
The controversial high-flyer Eric Watson sits at 41 on the list with $275 million; his business partner Mark Hotchin fails to make the grade, again.
The elusive Stephen Jennings, reportedly out of Africa with whereabouts unknown, is valued at $900 million - the same as Wairarapa farmer James Cameron and Sir Owen Glenn. Fellow knight Sir Bob Jones has swelled his coffers by $100 million with a fortune now stacked at $550 million. The beverages, then, will no doubt be top shelf at the intimate soiree he's hosting next month to launch Fighting Talk, a dictionary of boxing terms used in everyday English.
Follow @nzherald_ent on Twitter for all the latest entertainment news.