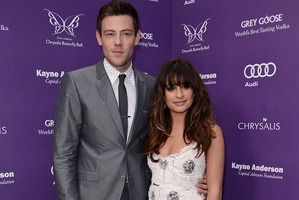 Glee creator Ryan Murphy confronted Cory Monteith about his sobriety just weeks before he died from an alcohol and heroin overdose.
The 31-year-old actor died just three months after he completed a stint in rehab.
Murphy has now revealed he was instrumental in persuading the star to stop work on the show and address his problems in a clinic.
"As soon as I heard what was happening, when we had two episodes left to go, I brought him to my office where we had the intervention," Murphy has told industry website deadline.com.
"He said he wanted to finish the rest of the season, and I said absolutely not. We were not going to put a stupid TV show before his sobriety. I assured him he was not fired, that his job was secure, that he would leave today.
"He went with a whimper and not a bang and it was very emotional ... We had experts in the room and tried to let him know this was a disease. It was a tough and very emotional day and the last thing he said before he left was, 'I want to get better.' And I believed him."
Murphy insists he was satisfied Monteith was making good progress until several weeks ago when the actor and his girlfriend Lea Michele came to visit him while working on a TV movie in Fire Island, New York.
He says he asked Monteith if he was having problems again.
"I honestly couldn't tell what was going on with him. He didn't seem quite himself, but when I confronted him he claimed he was clean."
Murphy goes on to praise Michele for her bravery as she dealt with her devastating loss.
"It has been a very difficult rollercoaster ride, and all through that, and through the last week, Lea has been the most brave and courageous person I've ever met.
"She has dealt with an impossible situation with more humanity than you could ever hope for."
Follow @nzherald_ent on Twitter for up-to-the-minute entertainment news, videos and reviews.
- WENN