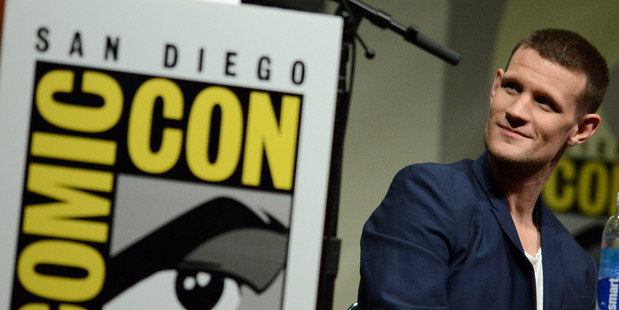 The question of the next Doctor Who remains a mystery, for now.
But fans of Matt Smith and his predecessor will be ecstatic once official footage of the 50th anniversary special airs because both doctors are in it, sharing many scenes, lines and scenery.
Steve Moffat, Doctor Who's showrunner, touted the footage - so far shown only Sunday at Comic-Con International - but asked the crowd to not share it on social media or else "there will be no more Comic-Con exclusives from Doctor Who or Sherlock."
He said that recordings of the Sherlock preview were posted onto Tumblr with minutes of airing.
"Can you promise, as 6000 of my Comic-Con friends, to do this?" he asked before the lights dimmed ahead of the preview. The special is due in November.
The crowd was not disappointed in what it saw from the BBC America show.
It boasted lots of scenes between Smith, whose tenure as the Doctor ends in the special, and his predecessor David Tennant.
Also featured was Billie Piper, who played Rose Tyler, the companion to Tennant's 10th doctor and, before that, Chris Ecclestone's ninth doctor.
There were scant plot details, but the crowd was rapturous.
"There are lots of things that we have been setting for the 50th in Matt's final episode," Moffat said. Asked by a fan if Captain Jack Harkness, who was played by John Barrowman, would return, Moffat demurred.
"Well, you can't put everybody in the 50th!" he said, drawing laughs.
When asked by moderator Craig Ferguson whether Smith's replacement had been selected, Moffat said: "We haven't done that yet."
Moffat noted that finding the right actor would be hard, paying respect to Smith's work in the role and the odd nature of the character.
"He's the same man. Each actor that plays it comes with a different emotional background," Moffat said of the regenerating Time Lord whose incarnations since the show began in 1963 have counted 11 actors.
"There is only one doctor. He has lots of different faces."
For Smith, the panel was a chance to reminisce and bask in adulation from a crowd that has made his doctor their own.
"It changed everything: My life, my family's life," he recalled of the role. "I'm proud and grateful to be part of it. ... Also, because I am on the way out, I just wanted to say thank you for all your support."
- AP