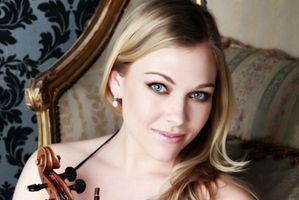 If you have a hankering to brush up on the theory of relativity with some violin on the side, the Auckland Town Hall is the place to be on Monday.
At 5.30pm, Brian Foster, professor of experimental physics at Oxford University, will fill you in on the life and musical passions of Albert Einstein, with incidental music supplied by Englishman Jack Liebeck, last heard in this city playing the Dvorak Violin Concerto with the Auckland Philharmonia Orchestra.
The concert component of Chamber Music New Zealand's Einstein's Universe project follows at 8pm. Liebeck will be joined by pianist Stephen De Pledge and violinist Victoria Sayles, with Julia and Andrew Joyce, principal players in the New Zealand Symphony Orchestra, adding viola and cello.
Julia Joyce is the orchestra's latest poster girl, publicising next month's Magnificent Mozart tour in which she takes on the composer's Sinfonia Concertante alongside Vesa-Matti Leppanen.
Joyce memorably played the same work in Auckland two years ago with Bach Musica NZ, and admits she has been looking forward to it all year. She is easily drawn out on her work with the orchestra and the almost visceral thrill of being part of last year's Die Walkure: "It was an amazing marathon but still worth it."
When I remind Joyce of some of her impressive solos in various other pieces with the NZSO, she singles out Chris Cree Brown's Celestial Bodies last year. "It involved a whole page of just me on my own. It was quite tricky writing but a great experience."
More recently, she regrets that Aucklanders missed out on the NZSO's performance of Eve de Castro-Robinson's The Glittering Hosts of Heaven, thanks to the vagaries of Wellington's weather. She winces at memories of sitting around the capital's airport for eight hours, but musically there are no regrets.
Joyce was one of seven soloists from the NZSO ranks on that occasion. "It's the closest I've ever got to standing in front of the orchestra," she smiles. "It was quite a buzz. I've certainly never played close-up with a vibraphone or a trombone before."
On Monday, she and her husband lend their weight to the second half of the Einstein's Universe concert.
It was chamber music that brought the couple together - they met when Andrew joined the now-disbanded Chagall Quartet.
These days they comprise half of the Puertas Quartet which, just three years ago, got as far as the semifinals in the International Bordeaux String Quartet Competition.
"We all came together on a cruise ship, playing for a couple of weeks around the Mediterranean, and decided to keep the group going," she laughs. The other two players are based in Britain. "We meet when we can and had a successful tour of England and Scotland in January."
She is also excited about a new Puertas recording of quartets by Ravel and Tchaikovsky, to be released later this year on Atoll Records.
One of the highlights in next week's Town Hall concert is being able to play Brahms' great F minor Piano Quintet.
"We'd worked with Stephen De Pledge on the Elgar Piano Quintet two years ago," Joyce explains. "When the viola and cello combination is required, Andrew and I are easy to book because we have the same schedule and can share a hotel room when touring."
Samuel Holloway's new commission, Matter, is relatively new territory for her although, like her husband, she is not asked to use her bow under the instrument's strings. "It's very bizarre," she comments, while pointing out the validity of these techniques in opening up worlds of new sound and colour. "Today's composers often go for the gesture, even if in doing so you might have to throw away some of the precision that is part of Mozart."