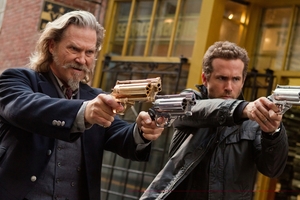 Hollywood is facing a summer crisis after an unprecedented series of action films with budgets of more than US$100 million ($126.6 million) flopped at the box office.
Analysts are predicting that R.I.P.D., starring Jeff Bridges and Ryan Reynolds, will become the fourth such film in as many weeks to underperform.
The costliest failure so far has been The Lone Ranger, starring Johnny Depp, which cost US$250 million to make, and had a huge marketing budget. It was savaged by critics as a "bloated, unfunny, sometimes downright bizarre train wreck" amid a "summer of garbage blockbusters".
Disney may have to write off up to US$150 million losses on the film, which was largely ignored by cinemagoers despite being released over the July 4 holiday weekend. It took in just US$29 million that weekend in North America, losing out heavily to the animated comedy Despicable Me 2.
White House Down, starring Jamie Foxx and Channing Tatum, took just US$25 million on the June 28 weekend, while Pacific Rim, a story of alien monsters, brought in only US$38 million over the July 11 weekend despite being praised by many critics. More people went to see the Adam Sandler comedy Grown Ups 2.
R.I.P.D., a US$130 million science fiction film about police officers fighting villains in the afterlife, is predicted to take in only about $20 million this weekend. To be considered successful, blockbusters aim to take in about half their budget over the first weekend. The film is being released at the same time as Red 2, a tale of retired hit men starring Bruce Willis and Dame Helen Mirren, which is expected to split the audience.
The series of big budget disappointments has come just a month after Steven Spielberg warned that Hollywood was facing a "meltdown" because of its over-reliance on blockbusters.
Speaking at the University of Southern California last month, Spielberg predicted "an implosion where three or four, or maybe even a half dozen, mega-budget movies are going to go crashing into the ground".
Analysts said the failures were partly a result of competing studios trying to release too many big films at the same time.
There are more than 20 with a budget of more than US$100 million being released this summer, six more than last year.
The studios have ploughed resources into so-called "tent pole" films, which are accompanied by costly marketing, and are expected to make large profits. But to do so, they all need to arrive in cinemas over the summer months.
Until late June, Hollywood had been on course for a record summer, following the success of early hits including Iron Man 3, Star Trek Into Darkness and Fast and Furious 6. However, as fatigue set in with audiences, the movie industry entered what has been labelled the "dud zone", in which big releases have fared less impressively than lower budget productions.
A slew of expensive films remain to be released in late July and August. One exasperated studio head told the Hollywood Reporter: "You had too many $100 million-plus movies, not to mention US$200 million-plus movies, jammed on top of each other. There isn't enough play time, and the result has been more movies that wipe out."