Reality cameras train their lenses on local shows, finds Nick Grant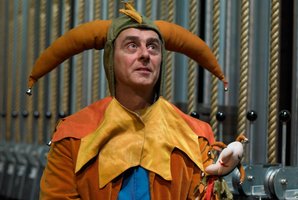 Although Shakespeare was being metaphorical when he wrote "All the world's a stage, and all the men and women merely players", the makers of reality TV have been doing their level best to turn his poetic observation into a statement of fact.
Few aspects of society have escaped its cameras' hungry gaze and its essential unreality has long since been acknowledged. (When the people are referred to as "characters" and often disparate events are cunningly edited into coherent "storylines", it's pretty obvious "reality" is being used in an ironic, if not Orwellian, sense).
How actively onscreen participants collude with programme makers in turning their lives into the stuff of entertainment obviously differs between shows, but I tend to assume anyone agreeing to being followed by a camera crew is giving an implicit undertaking to behave in a way that makes their presence worthwhile.
The main problem for those in the reality biz is finding a profession that includes co-operative individuals and hasn't already been picked clean.
As such, I can only imagine the excitement when it occurred to someone at Greenstone to make a programme about amateur dramatic societies.
It's difficult to believe it hasn't been done before. After all, any am-dram group is bound to provide a bunch of more than willing participants, given they've already proven their desire for attention by joining the group in the first place. And once they've got that attention, their burning need for their audience's approbation guarantees they'll be as entertaining as they possibly can, even if that means acting up rather than acting well.
And so it proves to be with Showtime, which trains the spotlight on two outfits: the Otamatea Rep Theatre in the Kaipara town of Maungatoroto, and suburban Auckland's Howick Little Theatre. Focusing on these theatres offers ready contrasts between country and city communities, though there are more similarities between these am-dram adherents than their geographical differences might suggest. (A weird one is that being called Peter is apparently a key attribute: Howick's director is Peter Meikle and the president of Otamatea is Peter Flower, whose wife Maura co-directs the Christmas pantomime with Peter Matheson.)
The series promises to culminate with an opening night for each theatre, and the first episode is largely concerned with the auditions. Of course, it wouldn't be a reality show without some diverting drama to entice viewers back after the break. In Otamatea's case, the kitty is empty so they put on a show to raise the panto's budget. And Howick is also suffering from a shortage - the dictatorial, diva-ish Meikle has no tact whatsoever.
Whether fixing the camera with an arch stare or terrorising his cast with tart comments, Meikle is well aware of what is required, and his apparently enormous ego looks likely to be the most reliably entertaining part of Showtime. A star is born.
Showtime debuts Wednesday at 8pm on TV One.