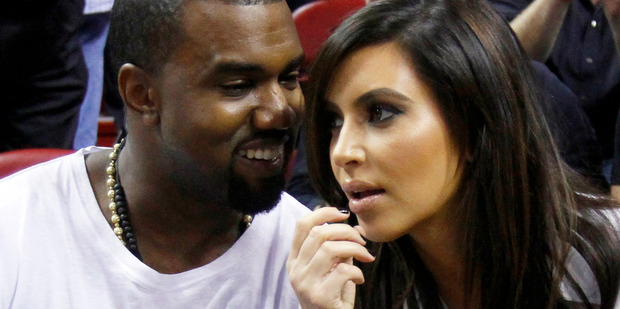 Kim Kardashian insisted on meeting up with Apple co-founder Steve Wozniak while she was on the way to give birth.
The reality TV star gave birth to her and Kanye West's daughter North West five weeks early on June 15, but during her mad dash to the hospital the brunette beauty met Steve and his wife Janet at a hotel to pick up a piece of Apple memorabilia to give to Kanye for Father's Day.
The bizarre incident occurred as Kim and her mother Kris Jenner were driven to a hotel to swap vehicles to avoid the paparazzi following them as they made their way to the medical facility.
On the first episode of her new talk show Kris, the showbiz matriarch recalled: "We go to the hotel, Kim's under the blankets tapping away on her phone and I'm like, 'Who are you emailing?' She said, 'I'm emailing Steve Wozniak. Could we stop with the Woz,'
"I told her, 'Let's go to the hospital!'
"We get to the hotel, and we're so smooth but when Kim pops up, I see Steve Wozniak and his wife Janet standing in the foyer!
"Kim then heads over like nothing's wrong to chat to Steve and Janet, she's acting like she's at a cocktail party and I'm panicking.
"Finally we get in the getaway car, and Kim lies down then yells, 'Mum, hit the floor,' we're in a Mini Coupe and there was no room, but I did it.
"Then at the hospital, we hit the secret car park, we head in through the secret elevator and through the kitchen and then we have a baby.
"I went back on Father's Day and guess who was in the room? Steve Wozniak."
Earlier in the episode, Kris revealed how Kim was desperate to get her hands on a piece of Apple merchandise for Kanye because he is "obsessed" with the brand, and Wozniak had already told the 32-year-old beauty he would travel from San Francisco to Los Angeles to personally deliver a computer mouse.
She said: "He's obsessed with Apple so she wanted to get memorabilia but she had got nowhere, so she called Steve Wozniak and he said he'd bring her a mouse, drive it all the way down from San Francisco and meet Kanye for brunch."
- Bang! Showbiz