Sumptuous department store drama has all the right ingredients.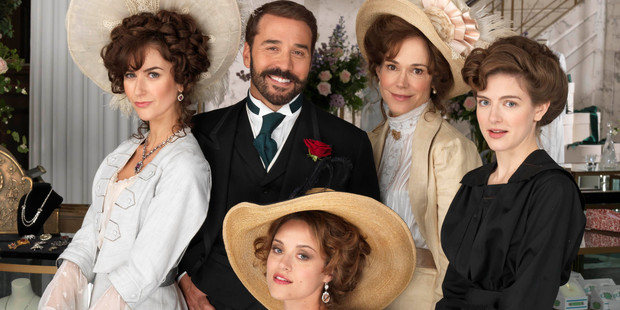 I was a little nervous about watching Hoarding: Buried Alive, a new reality series that launched last week on what used to be our most grown-up free-to-air television channel, TV One.
I live with someone who has trouble getting rid of things and thought, as I approached Hoarding: Buried Alive, it might move me to call in the mental health professionals.
But, if that show's anything to go by, I don't have a problem at all.
As the last two words of the title delicately suggest, the people featured on this series inhabit an extreme end of the human experience. And, credit where credit's due, television is becoming increasingly good at finding new extreme ends of the human experience.
Nothing should be surprising any more, though I hadn't foreseen a big future for shows about weirdos who can't throw things out, but then I also failed to predict the rise of the recently popular "embarrassing bodies" genre.
And Hoarding: Buried Alive is the same sort of thing. It's an embarrassing bodies of the brain - very embarrassing, if that disturbing first episode (Wednesday, 9.30pm) was anything to go by.
It's probably the only episode I'll ever watch. I think I catch the drift and I won't need any more of the same, though it was creepily compelling watching a woman consider whether hanging on to her houseful of trash was more important to her than hanging on to her family.
Or watching Chris, a good-looking guy in his 40s with a good-looking girlfriend and a good-looking life - until he opened the door of his apartment.
Though actually getting the door to open at all was the first problem. A self-declared "keen shopper", Chris had accumulated so much stuff over the years, whole rooms and even his stairway had disappeared.
Shortly after this revelation, so did his girlfriend. "You live here?" she asked him.
"Not very well," he replied sorrowfully.
Being the sort of show that wants to seem to care as well as just stare, Hoarding: Buried Alive wheeled in some experts to help the poor victims out of their mess.
But while they helped the trash-collecting lady from Louisiana unearth her dining room, Chris seemed a lot less interested in confronting his cluttered life and left us with a look in his eye that suggested he might be off to the shops again.
On the subject of shopping shows, a new one called Mr Selfridge launched on Sunday night (TV One, 8.30). It's a superior sort of shopping show, being a drama about an American called Harry Gordon Selfridge and the trend-setting London department store he established in the early 1900s.
Though really, Mr Selfridge is another one of those toff-worshipping upstairs-downstairs nostalgia fests in the style of Downton Abbey.
It's a beautifully made trifle absolutely full of the sort of ingredients you'd expect.
The hero's a big-spending smug guy with a beard and too many teeth. There's a shop girl who dreams of better things, a saucy actress, a sex-mad socialite, a long-suffering wife and an even longer-suffering accountant.
Everything's in place for everything you'd expect from this sort of show - mainly nostalgia, with a promise of shagging on the side.
Which, of course, is the sort of thing any shopping show might benefit from.
Follow @nzherald_ent on Twitter for all the latest entertainment news.