Nielson rolls with rock stars but still nervous at NZ shows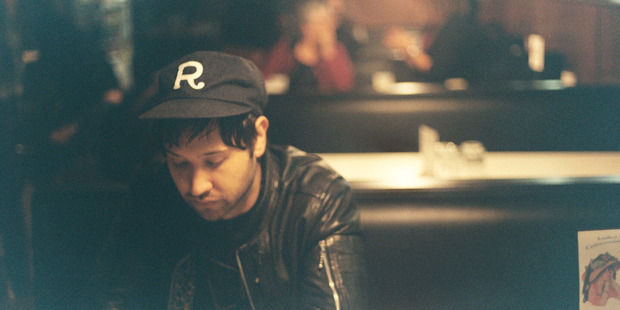 When TimeOut speaks to Unknown Mortal Orchestra front man Ruban Nielson down the line from Portland, the ex-Mint Chick, expat Kiwi is on a rare break from touring. He's spent most of the year so far on the road around the United States and Europe, presenting his brilliant second album under the UMO moniker, II, which was released in February.
But although many might think he'd be keen to get away from music making during his rare time at home, Nielson is still drawn to his basement recording set-up.
"I can't really help but do music. When I try to take a break, I still end up recording songs on my phone. So I made an EP while I've been back. The record, II, is gonna get sort of a re-release and so the EP is gonna come with the record, and it's going to be a bunch of acoustic songs, some covers, some more stripped-back versions of the same songs."
And he's been recording a bunch of his favourite covers too. "Right now I'm learning Four Seasons In One Day - it's actually quite complicated, the bar structure is really weird. But I've just been trying to think of all the songs that I like and then learn how to play them, so I've recorded a Dirty Projectors song called Swing Lo Magellan, and this really old song by Beck called Puttin' It Down, and a few Syd Barrett ones.
I figured I'd just record them and keep them on my computer, and maybe one day they'll be useful."
If you've been following the band via social media, you might've seen they've also been busy while on the road, doing various live sessions for radio and online stations with Nielson frequently performing on his own, with an acoustic guitar. There's one particularly stunning, sparse video version of So Good At Being At Trouble for The Line of Best Fit website - which begs the question: what inspired this new interest in acoustic versions?
"I was hanging out with Kody [Nielson, his brother] and Bic [Runga, Kody's partner], and Bic has this amazing old 60s Martin acoustic guitar, and she was like, 'Hey try this out'. And I'd never really played an acoustic guitar before, because I never really owned one. But I ended up recording the acoustic guitar part of From The Sun with that guitar at Kody and Bic's place. I guess Bic got me into acoustic guitars. Then I got given one when I got back to Portland, so I got really obsessed, because it says something about a song when you can strip it down to its bare minimum and still be able to perform it. We never really got the chance to do that with The Mint Chicks because the songs were always electric straight away."
The songs from II are strong enough to be turning heads and eliciting invitations from some big names - including British superstar DJ/producer Mark Ronson, who invited the band into his new studio for a whirlwind recording session. "We were basically just hanging out, me and him, and his engineer, playing around with guitars and getting drunk," Nielson says. "And then he was like, 'You should come in and do something' ... It ended up that we had an hour the next day, so we went in and recorded two songs - So Good At Being In Trouble, and I did a cover of Sitting On The Dock Of The Bay," he laughs. "I don't know, it's just my karaoke song."
It didn't take long for them to hear the magical Ronson touch, though. "When we came into the control room, he had the speakers blasting and it sounded like the Amy Winehouse album straight away. You know, we'd only just recorded it and already it was like, 'What the hell?' The drums sounded like the drums from I'm No Good. It was my first experience of dealing with a producer and being like, 'Wow, that's the Mark Ronson sound, he just did it to us'. It was really cool."
Ronson clearly rates UMO - they were the first band to record in his new London studio and he played the new recordings on his East Village Radio show that night - and Nielson hints that future work together could be on the cards.
"I might go out there and do some stuff with him on the next record, not sure yet. But I think it's a good fit. It would've been good to have him look at So Good At Being In Trouble or How Can U Luv Me, so if I end up wanting to work with anyone else on songs like that in the future, it would be Mark."
Their other rock-star encounter was equally positive, meeting The Flaming Lips when UMO played support for their Paris show.
"Wayne Coyne was really, really nice. I just went and said thanks to them afterwards, and then Wayne came into our dressing room and sat down and started drinking and hung out. Steven Drozd was nice as well, he's just a little more shy but, yeah, it kind of blew our minds how nice they were. Hopefully we might end up playing some more shows with them - the first thing Wayne said to me when I said thank you, was 'gimme your number'."
All that time mixing with the big guns hasn't changed Nielson's attitude in any way, though - he's still more nervous about performing in New Zealand than at Lollapalooza.
"It's pretty exciting but, I don't know, it's just another gig," he laughs. "I've been thinking about the New Zealand shows a lot more than Lollapalooza. It doesn't really matter what the size of the crowd is, it's more personal things, you know, if you're playing in front of your friends or family it's more nerve-racking. Dad especially, I'm always really stressed out when my dad is at a show."
Who: Ruban Nielson, frontman for Unknown Mortal Orchestra
Where and when: Returns to New Zealand on Friday, July 19 at the Kings Arms in Newton. Also playing at Refuel in Dunedin on Thursday, July 18 and at Bodega in Wellington on Saturday, July 20.
Follow @nzherald_ent on Twitter for all the latest entertainment news.
- TimeOut