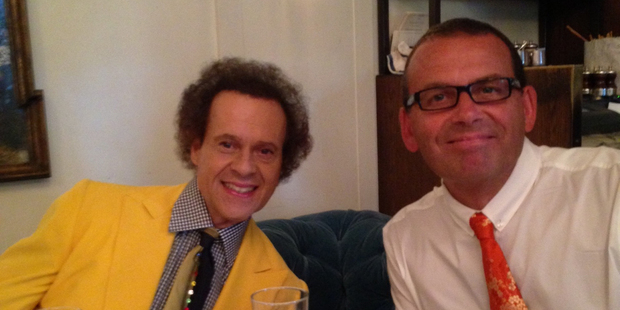 Paul Henry returned from Los Angeles last week but his career at TV3, to which he is contractually bound, remains in limbo while MediaWorks works through a long-winded receivership. He is currently jobless.
Henry is adamant the dissolution of the company "will not affect [his] contractual relationship". But nothing is certain.
He says it's a waiting game process. The budget for his eponymous TV3 show is there, but the decision on what it will entail, and when it will screen, remains to be finalised.
He scoffs at suggestions he'll replace Home and Away when it relocates to TV2. Henry favours a late-night slot, where he can "be more liberal" with his language.
In the meantime, he is flying high from his brush with the Hollywood movie business.
Henry wrapped filming on his autobiographical short film, The Desk. The mockumentary, now in post-production, makes light of Henry's wanton ambition to be the next chat-show king. It's a 15-minute movie about pitching a TV show that never quite happens. Producers aim to screen it at the Sundance Film Festival next year.
Richard Simmons has a cameo role. So do others, but Henry won't divulge names. "These people have reached varying degrees of success in Hollywood. One of them has lived in the same flat for 16 years with a mangy cat, but is on all the big TV shows," he told The Diary.
Simmons and Henry starred together on an Air New Zealand in-flight safety video two years ago.
They're firm friends. He says Simmons was an obvious choice for a cameo: flamboyant and funny.
They dined together in Beverly Hills after filming their scenes, and Simmons made him wear a tie. Apparently Henry wasn't up to sartorial scratch.
"Everyone fussed over Richard. They fawn over him and help him out of the car like he's a bloody invalid."
As for the Hollywood bug, Henry's been bitten. But he says there's no plan to return - unless the movie is a success. If so, a TV show on the same subject is likely. A television pilot is being cut at the same time as the short film. "It will, in effect, showcase a TV show that could happen," he says with some surety.
Seemingly, that's more than MediaWorks can offer right now.
Pakeha Party peacocks
It burst on to our social media like a pimple being popped. But as far as lancing goes, the-yet-to-be-registered Pakeha Party is thrusting a message that's already offside with some.
John Key said he doubted the party would "get legs"; Duncan Garner said "they make Aaron Gilmore look humble".
The Pakeha Party is foggy in its policies - especially around the Treaty. Its only mantra, according to its Facebook page (with 35,000 likes and growing) states: "Equal rights for Pakeha. If the Maori get it, we want it too. No matter what it is." Clear as mud.
One thing is crystal: Garner's off the Christmas card list. After an interview with the Pakeha Party on his radio show on Monday he received an email from co-founder David Ruck labelling him "a moron".
Ruck complained Garner had "stepped into topics we weren't prepared for". Like party policy.
"I asked them what they stood for and that clearly overstepped the mark. Now they won't deal with me," Garner told The Diary.
Ruck is adamant he will form a party. But he told Garner: don't expect another interview. "You have just burnt all future relationships for any exclusivity or relationships for all MediaWorks brands," he fumed via email, later published on RadioLive's website. "Any future reports will need to be run past TVNZ."
The state broadcaster, basking in the afterglow of winning exclusive rights to air Home and Away and English premier footie, won't notch it up as a win.
Judging Bedingfield
Clothes say something about the person wearing them. And Daniel Bedingfield is no exception. But his sartorial lingo is so loud and confused. Sometimes it says, "I like to think I'm eccentric". Or, "I come from the Highland Clan of Barbara Cartland". Or, "my pants are tight because maybe I don't want kids".
But when the Pentecostal Christian took to the X Factor stage on Monday to sing his new single Every Little Thing [Is Going To Be Alright], celebs and muso aficionados took to Twitter to say, er, maybe it won't.
They judged the judge, and they were harsh. Dominic Harvey said the song "was longer than November Rain and Hotel California combined". Russell Baillie said Bedingfield's musical hero "is clearly David Brent". Neil Finn mocked, "What about the big things Daniel?"
And Liam Messam just managed, "Ummmmmmmmmmmmmmmm."
Orange onesie avoided
So, you know how we like to poke fun at Kim Dotcom's devout uniform of black fleecy vest and woollen scarf, no matter what the season? Turns out, the Titanic Teuton doesn't like stripes.
In response to the Prime Minister's quip about shipping him off to Buckingham Palace as a baby gift for the royals, Kimbo retorted: "First the Prime Minister sold me to Hollywood. Now he's gifting me to the royal family. I'll pick palace over prison".
Dotcom is facing an extradition bid by the FBI to the United States. An orange jumpsuit, he says, is not his new black.