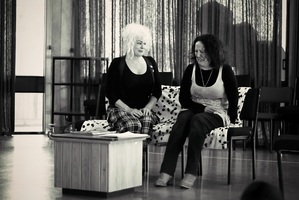 Writer Stephen Sinclair's fascination with the ways in which ever-evolving technology is changing our lives and reshaping our relationships is utterly understandable. Spend some time with the film and theatre writer, along with Elena Stejko, who directs Sinclair's latest play, and the conversation quickly turns to the ethical conundrums technology presents.
"Not so long ago we were watching the Terminator films and regarding it as the stuff of sci-fi; now, not more than 30 years later, we're discussing whether wars should be fought by robots and who should give them the authority to kill," says Sinclair. "Should they make the decisions or does there need to be a human controlling that? It's pretty scary stuff."
Intimacies offers a satirical but nonetheless disturbing glimpse of where Sinclair believes - and fears - technology may be taking us. It comprises two one-act plays that are thematically linked and have been developed during a three-year period, with Sinclair juggling its creation with other work.
The project gained momentum earlier this year when the Auckland Theatre Company workshopped the two stories. Sinclair says he's getting more comfortable with the process, where playwrights receive constructive criticism about their scripts. "I found it very tough at first, but I'm older and more thick-skinned. This particular workshop was very helpful because I had an epiphany about where one play needed to go and wrote another entire scene.
"The advantage of the workshopping process is, of course, you can see the play and get a sense for what works and what doesn't."
In Sweet Thing, a mother and daughter appear to be having a heartfelt discussion that highlights the closeness of their relationship, but when their son and brother storms into the room it becomes apparent all is not what it seems.
Meanwhile, in I'd Rather Be The Pope, a hard-core gamer who spends most of his life inhabiting the amoral universe of virtual reality has been marginalised by society. His violent outbursts don't help, so he is seeing a counsellor. Lynn Waldegrave and Rima Te Wiata star in Stephen Sinclair's Intimacies. But when he assaults her, the reaction is quite unexpected.
Stejko was next door when the scripts were workshopped, rehearsing for ATC's Midnight in Moscow, in which she appeared earlier this year. One of the stars of Sinclair's 2010 film, Russian Snark, she says Intimacies raises emotional as well as ethical issues. Though new technology allows us to connect to a greater number of people in different ways, she sees it as creating and defining specific boundaries of acceptability.
"In one way you are connected to more people than ever but in other ways, you're not connected at all. There's lots of social contact, but it is often very superficial."
One-act plays are something of a new direction for the seasoned playwright, who co-wrote the comedy Ladies Night (which has been performed continuously somewhere in the world since its 1987 debut).
He has also enjoyed a long-standing screenwriting partnership with Peter Jackson and Fran Walsh, notably on The Lord of the Rings: The Two Towers.
"One act was the natural length for each of these plays," Sinclair says, "and I'm a firm believer in making a play only as long as is right for its narrative. Some stories seem naturally to be more suited to theatre in that they're more dialogue driven; others offer more visual possibilities and require lots of different locations for the narrative to work so they make better films."
Intimacies stars Rima Te Wiata, Lynn Waldegrave, Jordan Selwyn, Peter Tait, Charlotte Chapman and Ross Brannigan.


Performance
What: Intimacies
Where and when: Musgrove Studio, Maidment Theatre, July 5-27