Chris Parkin learns there's philosophy and serious art in the age-old business of clowning.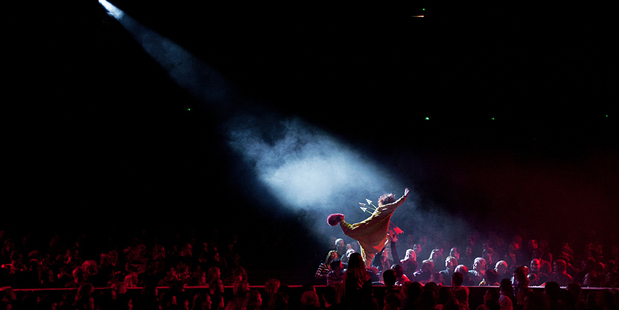 "You are so lucky, such a privilege. This is English word, privilege?"
The French taxi driver was more excited about all this than I was. "He is wonderful man, amazing man, you are to have a great honour to meet him."
We were an hour outside Paris, driving down a gravel road behind an industrial estate towards the home of one of the most famous clowns in the world. I was nervous. The same way I imagine I'd be before meeting the Pope, acutely aware that through the veneer of polite small talk I'd always be just a moment away from being rumbled as a non-believer.
It's not that I have a problem with clowns - I'm not coulrophobic, for heaven's sake. It's just that I find the experience of being on the receiving end of forced squirty-flower jollity a little ... socially awkward.
In the forest ahead of us, two giant wooden security gates part to reveal a 2m-high sculpture of a human skull. Okay, maybe I am coulrophobic.
Circuses have Cirque du Soleil, Irish dancing has Riverdance and clownery has Slava's Snowshow, the spectacularly successful stage show that has been running for 20 years and been seen by millions around the world.
Devised by Russian clown Slava Polunin - the owner of the skull and a man often referred to as "the best clown in the world" - Slava's Snowshow is a mixture of melancholic, often achingly subtle mime mixed with classic slapstick gags, all of which culminate in its eponymous finale: a gale-force blizzard of fake snow that envelops the auditorium and must be the bane of theatre managers' lives the world over.
The show is about to return to New Zealand and, at the end of the driveway, I can see clowns and technicians busy loading giant wigs, costumes, exploding top hats, pyrotechnic rigs and many, many pairs of enormous clown shoes into flight cases. This could make a great episode of Border Patrol when it lands in Auckland.
Slava arrives, looking every inch the off-duty clown: yellow shirt, red trousers and an explosion of white hair. With him is another clown with a long, grubby green jacket and a wide purple hat carrying an oversized comedy broom in one hand and a small chihuahua in the other. It's not clear what he would be doing if I weren't here.
Surely he wouldn't be wandering around just, you know, being a clown?
Slava answers the question before I even ask it. "The most important thing is not to separate life from art," he says as we walk past a caravan shaped like a clown's face.
"I have built this place to try and show that it's possible to turn life into theatre."
It's quickly apparent Slava takes clowning very seriously. The seven libraries in his house are spilling over with books on philosophy, art theory and history, and he often pauses mid-thought to quote Russian philosophers. He is a long way removed from your average children's party clown.
"I hate modern clowns," he says. "I think clownery has taken a wrong turn and what I'm trying to do is travel to the roots of clownery; talking about the 16th century using languages of the 18th century, do you know what I mean?"
I don't have the first clue, but I nod enthusiastically. He has the emphatic energy of an evangelist.
Every part of Slava's enormous house-cum-workshop-cum-clown-commune is deliberate and carefully considered. The enormous house in which three generations of Polunins live is called Moulin Jaune, the Yellow Windmill. It's a labyrinth of themed rooms - one entirely white, one entirely blue, ... What I'm trying to do is travel to the roots of clownery.Slava (left)one a high-tech pod of brushed steel surfaces and appliances that retract into the walls.
The forest surrounding the house is also divided into themed areas: a garden with only white plants leads to a clearing where musical instruments are built into the trees; the Red Garden meanders past a Korean temple and reveals a giant structure shaped like a beehive seemingly suspended in the trees above us. Inside, it's lined with deerskins and has a double bed below a panoramic skylight. One side opens to a balcony, a stage of sorts for performing to whoever may be sitting below.
"We had a punk group staying here and they did a performance and, at the very end, they poured petrol on themselves, set it on fire and then used long sticks to pole-vault from the balcony into the river over there," Slava explains without looking back for my reaction, as though no part of this is out of the ordinary.
Everywhere, people are working on different projects: a team of gardeners planting burnt timber in the Black Garden, a group of young artists building an elaborate treehouse above the giant skull in the drive, a clown chasing a rooster with a long thin balloon. It's what Willy Wonka's factory would have looked like had he swapped chocolate for clowning. Slava himself has more than a hint of the Wonka vibe.
"I am like a kid officer," he says as he climbs into a giant perspex chair suspended over the river, "a kid representative in an adult world and my mission is to teach adults how to become kids again."
On cue, five men in wetsuits come bobbing down the river, laughing and waving.
"They disappeared from the Bermuda Triangle and then appeared here," Slava offers by way of explanation. The truth is only slightly less odd: they've been pig-hunting and are floating in a semi-circle around a large boar carcass; this, evidently, being the best way to transport it home.
Slava's wife calls us in for lunch and we settle in around a huge wooden table where half a dozen conversations are going on in four languages between clowns, gardeners, family, friends, neighbours; after a while I stop trying to work out who everyone at the table is and how they fit in. This is a place where everyone is welcome so long as they bring an open mind and a love of "clownery".
After a day in the presence of the "best clown in the world", it's hard not to feel like a convert.


Performance
What: Slava's Snowshow
Where and when: Aotea Centre, July10-14