Manipulation of American media by British spy unit one of WWII's best-kept secrets.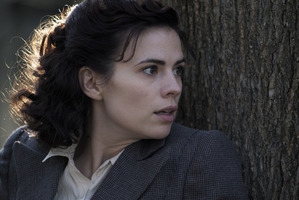 The exploits of the British Security Co-ordination was one of the best-kept secrets of World War II ... which is exactly how the Brits wanted it, given its mission was to manipulate the American media to such a degree that the United States would feel compelled to join the war effort.
"It's an amazing story and the Brits of course came close to sweeping it completely under the carpet - they're very embarrassed," said William Boyd, the acclaimed author and screenwriter whose novel Restless follows a young woman recruited into this clandestine organisation.
Boyd has now adapted his bestselling book into a two-part mini-series. It stars Hayley Atwell as Eva, who is recruited as a secret agent by spymaster Lucas Romer (Rufus Sewell) and dispatched on a series of dangerous missions that blur the line between professional and personal.
Are you happy with the way Restless came to the screen?
Hand on heart, I am completely delighted with it. I was very heavily involved, not only in writing the script but all the way through, and it all seemed to click - we had great actors, great direction, great production values. I couldn't be happier.
Does seeing your characters come to life on screen change your view of your work?
It's very odd and I did keep a kind of separation in my head. The book came first, and it will always be there, and any film version or TV version will always be some kind of bonus. Intellectually I'm in the right place for it, but it is always strange because my visualisation of these characters doesn't always conform with the actor we cast. But I am able to compartmentalise it and the two can co-exist in my mind. One doesn't overwhelm the other, so I'm very happy to have Hayley Atwell and Charlotte Rampling playing these two incarnations of the same character.
How did you come across the story of British Security Co-Ordination?
It was an amazing stroke of luck for me as an author to stumble across this story because it has been so hidden away. I was asked to write a film about the relationship between Winston Churchill and Franklin Roosevelt during World War II - in my research I kept coming across references to Churchill's "dirty tricks" and I wondered what they were talking about. I came across this book, written by three former British Security Co-ordination operatives, that listed everything they did. The numbers are hard to pin down, but it's estimated between 2000 and 3000 sub-agents worked for the cause in this huge and highly successful attempt to manipulate the media of another country ... a country we wanted to be our ally. I wanted to write a spy novel and I thought, "Well, this is where it will take place, not in Germany or occupied France, but in the United States and about what we were up to before Pearl Harbor".
What motivates Eva to enter the spy game?
She's seduced by Romer in a way; he makes a very good case. But I think Eva's motivation is a feeling of needing to do something, and that her brother, brutally murdered by fascists at the beginning of the story, mustn't have died in vain. Then she discovers she's good at it. With any job, once you discover your aptitude for it, it swallows you up. She finds she has the makings of a good spy - she's no longer like everyone else. And something I've found from my meetings with a couple of actual spies is secret knowledge is something of a turn-on, really.
It's interesting how spying can rely upon the best and worst aspects of a person's nature.
Yes, you have to lie and cheat and betray and dissemble and your life depends on it. So you are dehumanised in a way. You can't trust anybody because your survival depends on being suspicious, but you can't really be a human being if you don't trust people. You can't live without trust and a good spy sacrifices that part of themselves to be effective at their job. Even in her old age, Eva is still suspicious - that's why the title is Restless. She simply can't stop second-guessing or looking over her shoulder. It's a terrible burden to carry in your life.
TV preview
Who: Novelist and screenwriter William Boyd
What: Spy drama Restless
When and where: SoHo 8.30pm tonight and Monday, encores Sunday 9.30pm.
- AAP