A new album and a six-country tour would tucker out most people but, at 77, Engelbert Humperdinck knows how to pace himself, reports Scott Kara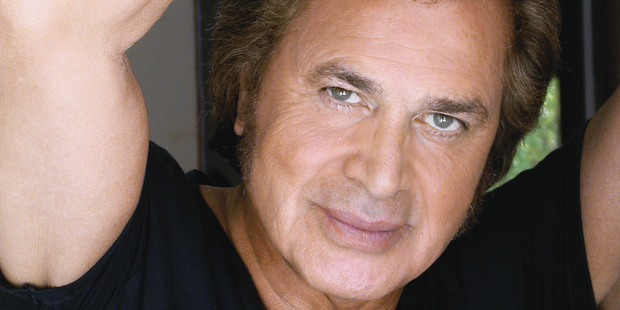 When TimeOut calls Engelbert Humperdinck he's at the door of what I imagine would be his opulent Los Angeles mansion farewelling a friend. The singer juggles the two conversations, keeping me on the line and happy ("Please, just one second. Would you mind waiting?"), while also saying a hasty yet polite goodbye to his friend. He then quickly turns his full attention back to TimeOut: "Let me take this in the other room. Right, I'm fine now. Sorry about that. I'm ready to talk."
And talk he does, about everything from returning to New Zealand for a Vector Arena concert on June 29 and his famous voice ("Power-wise it's as good as it was when I first started.") to being friends with Elvis and, of course, his song, Ten Guitars.
Because of that song, 77-year-old Humperdinck - real name Arnold Dorsey, he borrowed his stage name from a 19th century German opera composer - has a special connection with New Zealand. Ten Guitars was the B-side to his 1967 breakthrough hit, Release Me (And Let Me Love Again), which Humperdinck rather cutely spells out to TimeOut just in case we do not know.
Release Me went to No 1 around the world, keeping the Beatles' double A-side single of Penny Lane and Strawberry Fields Forever from reaching the top spot in Britain, but it was Ten Guitars that became a party hit here.
It was co-written with Gordon Mills, Humperdinck's first manager, in London in 1965 and back then he remembers he thought it was "a very happy-go-lucky song".
"Anybody can join in and sing along to it at parties and barbecues. And whenever I come to New Zealand I have to sing it at least twice," he says with a laugh. "But what amazes me, I played an open-air concert once, and all the little kids were singing it with me, and they were dancing to my song, Ten Guitars, and I think to myself, 'How do they know this song that's over 40 years old?'."
This year he dented our national pride by re-recording it with Australian supergroup the Break, made up of musicians from the Violent Femmes, Midnight Oil and Hunters and Collectors. When TimeOut light-heartedly brings up the fact he should really have recorded it with a bunch of Kiwis instead of Australians he offers heartfelt apologies before diverting conversation to the recent death of his sister and how his wife has been sick. "Things have been a little bit difficult over here," he says. "I've had a tragedy in my family. I lost one of my sisters and her funeral is tomorrow and it's a very sad thing for me because I'm here in LA, my wife hasn't been too well, so I'm just trying to spend time with her, and I can't leave her."
Which makes it very hard to press him on the controversial - for Kiwis at least - re-recording of Ten Guitars. Thankfully, his wife is "coming along fine, it's taking time but she will probably be alright". And it helps that she has one of the best voices in the music business singing to her every day - because he does sing to her most days.
"She listens in on my rehearsals, and she's my best critic," he laughs.
He still relishes the opportunity to collaborate and sing with a wide range of people, which is why he was bitterly disappointed a few years ago when his ex-manager, unbeknown to Humperdinck, turned down an opportunity to work with Damon Albarn on Gorillaz' Plastic Beach album.
"What a terrible tragedy that was. I was being handled by the wrong people at that time I think, and the manager I had at the time didn't probably know the Gorillaz and how massive they were. It just went by the wayside, and I didn't even know about it. But if I had've known I would have jumped on it like a ton of bricks."
That incident is part of the reason his son, Scott Dorsey, is his manager these days; together the pair have been bringing together his new Duets album, which features artists such as Elton John (with whom he does a virtual duet on his tour), soul great Smokey Robinson, and country legends Willie Nelson and Kenny Rogers.
"I wrote letters to all my friends and I had a tremendous response, and the first to respond, of course, was Elton John and he was just amazing in the studio. I've never actually worked with such a professional like that. But being in the studio with all these people is incredible because they are all legends in their own right.
"I've been in the business now for 46 years and I've met and sung with some of the greatest people in the world, like Ray Charles, and Elvis was a dear friend of mine."
Not many people can say they were friends with the King, and Humperdinck remembers that time fondly.
"Elvis never took his image too seriously. He always made fun of himself on stage. He had a lot of humility, and he was a very affectionate person. When he met you he didn't shake your hand, he put his arms around you and gave you a hug.
"And to me, a man of that stature meeting someone like me, a young man from Leicester, England, who was not even in the same boat with him as far as hit records go, he made me feel so welcome. It was just wonderful to be a part of that era, a part of that time, and friends with someone who had taken over the world with music."
Yes, but with more 150 million records sold, Humperdinck's a bit of a music legend himself.
To which he says graciously, "I'm just a very lucky person."
Who: Engelbert Humperdinck
Where and when: Vector Arena, June 29
- TimeOut