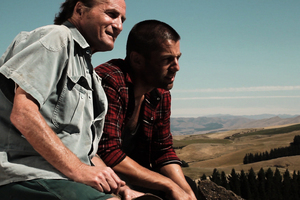 A DIY New Zealand modern western is set to premiere on the Rialto Channel tonight.
Netherwood follows Stanley Harris (Owen Black), a drifter who unwittingly inherits land in the fictional district of the title. Conflict ensues when unknown to Harris, the land is coveted by the wealthy Moore family.
Shot on location in rural North Canterbury, the film's dry, rugged landscape gives the film a desolate western feel.
Going into the production, the aspiring film-makers knew very little about the business side of producing a film.
"We knew a bit about making a movie but absolutely nothing about the back end of it," says co-producer Will Hall. "Getting it out there was a whole new world to us."
Hall, who is best known for his roles in Shortland Street and Nothing Trivial, plays the role of Mex, a malicious young thug determined to drive Stan off the land.
Directed by Cristobal Araus Lobos, the film also stars Mick Innes and Miriama Smith.
Hall says that self-funding the film has been a huge experience for himself and the others involved. "For me it was a necessary means to get the film made but it's taught me a whole lot of skills in a different area."
The film was produced on a budget of $200,000, the film-makers bypassing the usual route of New Zealand Film Commission funding for a small business model that relied on investors and sponsorship through product placement.
The movie was nominated for best self-funded movie at last year's Sorta Unofficial New Zealand Film Awards.
Hall says the landscape of the New Zealand film industry is changing as it is becoming more common for films to be produced independently.
"No longer do you have to go down those traditional routes to get films out there."
While the film has not made it into cinemas, Hall says having it air on Rialto Channel is an accomplishment in itself. "We wanted to find a home for our film, not just for ourselves but to pay back all the people who have invested time and money into this project."
With the release of Netherwood on the channel, which will be screening it again in coming weeks, Hall feels it is an exciting time for local independent movies. "I think if more of these films are being made it will be a real resurgence for people checking out New Zealand cinema."
TV Preview
What: Netherwood
When and where: 8.30pm, Rialto Channel, Sky TV.