Jami Gertz enjoys making friends with her neighbours, finds Sarah Lang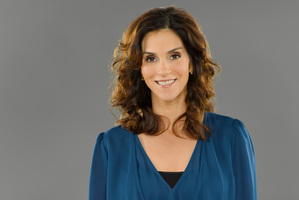 In 1994, American actress Jami Gertz, then 29, was offered a part in a new sitcom, but turned it down to have her second child. Courteney Cox took the part of Monica on Friends, and the rest, as they say, is history. "They got Friends but I got [husband] Nick Ressler, and I'm happy with my part of that deal," says Gertz.
Gertz and entrepreneur Ressler, whose net worth is reportedly $2 billion, have three sons, their own charitable foundation, and regularly top lists of the most generous US philanthropists. But Gertz is no desperate housewife. She has worked steadily for the three decades since she was discovered by a talent search aged 16, appearing largely in TV movies and in recurring roles on TV shows including Ally McBeal, Entourage and ER.

After her guest role on Seinfeld as Jerry's girlfriend Jane - who refused to pass Elaine any toilet paper - she still gets asked if she can "spare a square", even by Al Gore.
Gertz, who played harried mother Judy on family sitcom Still Standing (2002-2006), returns as leading lady on new ABC sitcom The Neighbors.
Her character, Debbie Weaver, is a frank, feisty mother-of-three whose hapless husband Marty (Lenny Venito) moves the family into suburbia as a surprise. She's not happy - and that's before she discovers the neighbours are aliens. The Weavers soon discover the secret and befriend the alien leader and his wife.
"Reading the script, I kept giggling," Gertz remembers. "It was so funny, so different.
Sitcoms have got to a caustic place of laughing at rather than with people, but humour that comes at the expense of someone is easy humour. I love that The Neighbors is a bit of a throwback. You always laughed watching The Cosby Show but you always had warmth and there was always love at the end. Dan Fogelman [The Neighbors' creator/writer] has struck a really nice balance between the humour and the heart."
The show satirises American - and human - life from an outsider's perspective. "Aliens are like immigrants. The show is asking: what's that immigrant experience? How are we living our lives? Is Christmas just about presents? What about Halloween?" Every Halloween, the aliens prepare for war.
Gertz also enjoys the satire of everyday annoyances and trade-offs in a long-term relationship. "What I love about Marty and Debbie is that things aren't perfect. It's like 'okay, if everyone's alive and no one's in jail, that's not so bad'." They even take aliens in their stride. "We think, 'this is messed up but there's a housing crisis, we're stuck, we're staying, we're in this together, we're making it work, we can laugh at ourselves'."
Although The Neighbors wasn't reviewed well, it rated well, and ABC has commissioned a second season. "Dan's on to something here - I'm not sure what that will turn out to be, but I'm along for the ride."
• The Neighbors screens on Wednesdays at 8pm on TV2.