Leonardo DiCaprio feels the pressure as he tackles an icon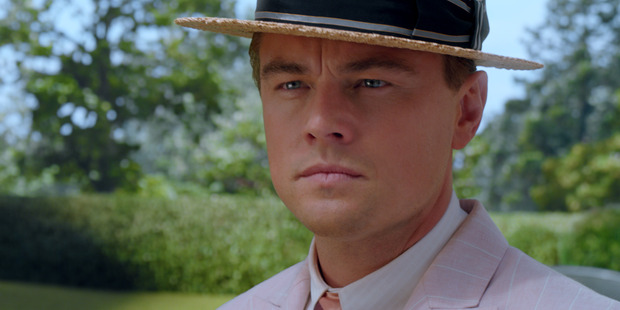 With electric cigarettes all the rage in Hollywood, it's only appropriate Leonardo DiCaprio should enter the Presidential Suite of New York's Plaza Hotel thoughtlessly puffing away at one of the hippest makes on the market and grinning ever-so-slightly at the frowns of response. On some it may appear smarmy and arrogant but, at 38 and having lasted two decades in Tinseltown barely putting a foot wrong, DiCaprio simply looks the epitome of cool.
The truth is he was using e-cigs in 2009, long before they were the hottest Hollywood accessory. One can't help but wonder if the specifically-green light at its tip is a nod to the similar glow at the end of the pier of Daisy Buchanan's property, which his character spends many nights fixated on in The Great Gatsby.
The emerald flicker represents the lost love at the centre of F. Scott Fitzgerald's great American novel and its greatly-anticipated film adaptation, which debuts in New Zealand this Thursday, June 6.
With Australian director Baz Luhrmann at the helm, the 3D spectacle was filmed in Sydney at a reported cost of US$125 million. Taking part in the retelling of such an iconic story was a drawcard but it brought a new level of pressure for DiCaprio.
"That [iconic status] isn't always a plus when you're making a movie," says DiCaprio. "I remember reading this book and everyone I know who has read the book is deeply-attached to these characters. They have their own interpretations of who these people are and they want to see certain scenes played out according to how they see it, so I'm setting myself up for a tremendous amount of criticism."
Criticism has indeed showered the film, which also stars Tobey Maguire as Nick Carraway, the narrator, who relocates to New York where his mysterious neighbour Jay Gatsby is desperately trying to win back his former love Daisy Buchanan (Carey Mulligan).
Undeterred by the pressure of living up to the expectations of the novel's fans, DiCaprio was drawn to the unconventional side of Gatsby's romancing.
"He's delusional in a lot of ways. He's not in touch with reality and his idea of what Daisy is isn't at all a reality. He's obsessed with erasing the past. Daisy wants to run away with him but that's not respectable for him - she has to instead go to [husband] Tom, tell him she never loved him and then it will be wiped out forever. Then he needs a bigger castle than Tom so he can stare across the bay to the dude he's trying to emulate.
"It became this twisted version of what love is and that was exciting to me. It's not a traditional love story."
The fact that Moulin Rouge and Australia director Luhrmann - a long-time friend since he directed DiCaprio in 1994's Romeo + Juliet - was behind the project also played a key role in DiCaprio taking on the part. "The guy has endless enthusiasm and exuberance for the work he does," he says. "He has a way of bringing nostalgia to filmmaking. I met him when I was 18 for Romeo + Juliet and he wanted to create this different universe of the Bard, which was an insane concept and nobody could wrap their heads around it, but he pulled off something incredible, unique and groundbreaking.
"For this, I knew there was no way I could say no to Baz. He makes you excited about the work process, listens to everyone's ideas, and his enthusiasm and passion is so infectious that every day you feel like you're doing something incredibly important."
Luhrmann says he sees the character of Gatsby as "the American Hamlet", with different interpretations for different times - the last of which saw Robert Redford fill Gatsby's shoes opposite Mia Farrow as Daisy in the 1974 film.
What makes Gatsby so "great" is something that Carraway only realises in hindsight, according to Maguire. "Gatsby serves as an inspiration for Nick because Gatsby hung on to what was true to him," says Maguire, 37. "He's in pursuit of this dream and the idea of being a great man, but along the way gets touched by love which derails that trajectory.
"Even though he continues to construct that dream, it's essentially just to make himself worthy of this girl. All he wants is to get back to this girl, and I think the purity of that dream and the hopefulness is something that Nick comes to admire - it's what makes Gatsby the 'Great Gatsby'."
DiCaprio says he believes in "love that lasts forever" like Gatsby's love for Daisy but he also thinks the delusional side of his character is something evident in most madly-in-love men. "I think all men have that. I don't know many men who have gone off and created a billion-dollar fortune, built a gigantic castle and thrown parties every night that cost millions of dollars just to be able to have tea with a woman ... but I do think every man has that in him, for sure."
• The Great Gatsby opens on Thursday, June 6.