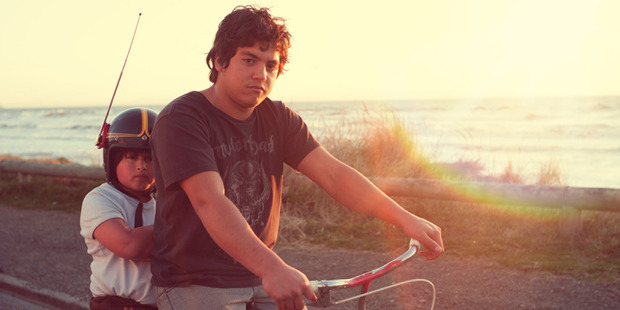 Kiwi directors Mark Albiston and Louis Sutherland hail from the fine tradition of making acclaimed short films before moving on to the coveted first feature. Both The Six Dollar Fifty Man and Run earned kudos at the Cannes, Berlin and Sundance film festivals, setting up the pair for a stab at a feature-length film.
Set on the Kapiti Coast in 1981, Shopping isn't nostalgic or whimsical like Taika Waititi's hugely successful Boy. There is no Michael Jackson routine, goofy absentee father or treasure buried in a paddock. Instead, Willie and his chubby, adorable younger brother Solomon get by as best they can with their mother and volatile father.
Willie has a dead-end job but catches the eye of charismatic thief Bennie, who takes him under his malevolent wing. Jacek Koman invests Bennie with a disarming combination of puckish joie de vivre and seething menace, crafting a memorable character that feels like a flipside to Bruno Lawrence's dysfunctional former racecar driver and father in 1981's Smash Palace. There is even the presence of a daughter, Nicky (Laura Peterson), who predictably becomes a love interest for Willie, though their path to true love is paved with theft, a jealous gang member and an unstable parent.
Ginny Loane's photography captures the drabness of the age beautifully, transporting the viewer back to a time when Muldoon loomed large in society, the Springbok tour was an unwelcome reality, and Ready to Roll captivated TV audiences. Not that the film is particularly concerned with such issues; instead keeping its focus narrow and intimate.
Both unschooled actors, Kevin Paulo and Julian Dennison breathe sympathetic life into Willie and Solomon, two characters who could easily disappear into the background. They charm us with an unassuming purity and realness, even as their inability to shape and control their surroundings proves frustrating.
Stars: 3/5
Cast: Kevin Paulo, Julian Dennison, Jacek Koman, Alistair Browning, Maureen Fepuleai, Laura Peterson
Directors: Mark Albiston and Louis Sutherland
Rating: R16 (violence, offensive language, drug use)
Running time: 100 mins
• Shopping is out now.