Ma-V-Elle to perform at Pacific Music show after 14 years apart.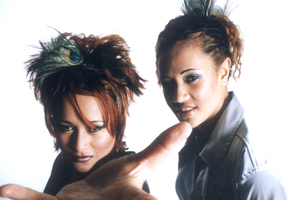 One of the country's original girl groups is making a comeback after more than a decade of being apart.
Marina Davis, Lavina Williams and Maybelle Galuvao formed the popular 90s group: Ma-V-Elle.
Their hit songs included Depend On Me, Never Say Goodbye, On and On and Freedom.
After 14 years away from each other - during which they pursued solo careers and two got married and had babies - they are returning to the recording room and stage.
Their first performance will be at tonight's Pasefika Proud Pacific Music Awards.
Williams - who has been working as a solo artist ever since their split in 2000 - said they had always planned to come back together at some point, but were simply waiting for the right time to do so.
"It was all about timing.
"We couldn't be doing anything when someone was pregnant or starting a family ... right now, it's just perfect timing for us.
"With technology these days we could have easily released something without physically being in the same room, but we wanted to physically come together to work on an album."
The popular trio formed Ma-V-Elle after meeting each other at school in South Auckland.
Their style - blonde highlights, choker necklaces and metallic outfits - quickly had people comparing them to American girl-group TLC.
Their big voices turned heads and they found themselves jet-setting to Europe for tours and opening for Tina Turner, The Supremes and Boney M.
Davis left the group first, deciding to pursue a solo career early on and has gone on to be a popular singer within the Samoan community.
Williams has worked on the international theatre production Lion King around the world and has been based in Germany for the past year.
Galuvao, who has been living in Australia with her husband and children, has continued her music career as the lead vocalist for covers band Maybelle Galuvao and The Groove Chapter.
All three will now be based in Auckland and Williams said returning home was a refreshing change for them.
"We're always asked: 'When is Ma-V-Elle getting back together?'
"Our fans in New Zealand have always been loyal and so this is as much for them as it is for us."

Music
Who: The reformed Ma-V-Elle
Where and when: Performing tonight at the Pasefika Proud Pacific Music Awards, Vodafone Events Centre, Manukau