Dominic Corry reviews the kung-fu film made by Wu-Tang Clan star RZA, The Man with the Iron Fists.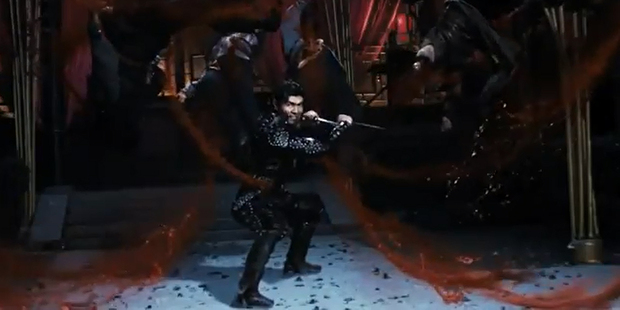 Anyone who's watched the special features on the DVD of seminal 1978 Shaw Bros. classic The 36th Chamber of Shaolin knows that founding Wu-Tang Clan member RZA is a serious fan of kung fu movies.
He provides an illuminating commentary on the DVD of the Gordon Liu-starring masterpiece and waxes enthusiastically about the film in interviews featured on the disc. His love for the film and the genre as a whole is deep and infectious.
Even the most casual Wu-Tang Clan fans know this about RZA as well - kung fu movies have shaped the group's aesthetic and philosophies, and RZA loves talking about them.
Which is why it was so exciting when he announced a few years ago that he would be mounting his own kung fu movie, which he planned to write, direct and star in.
The resulting film, The Man With The Iron Fists, was recently released in New Zealand. It unfortunately bypassed cinemas here, suffering the indignity of a DVD premiere after failing to set the US box office on fire.
I was really looking forward to The Man With The Iron Fists - the idea of an kung fu super-fan parlaying his musical success into an actual movie is hugely endearing, and I'm a big fan of films that exist primarily to riff on certain genres, like Machete or Death Proof.
I sat down to watch the film over the weekend, and while its commitment to ridiculousness kept me entertained throughout, I can now kinda see why this perhaps didn't fully warrant a theatrical release here.
RZA plays the Blacksmith, a skilled weapons-forger in a small village in feudal China who gets caught up in the conflict between various warring gangs all vying for a stash of gold.
Prominent supporting cast members include Russell Crowe as a lethal Englishman named Jack Knife and Rick Yune (Olympus Has Fallen) is Zen Yi, a legendary blade fighter who seeks The Blacksmith's assistance.
Lucy Liu plays Madame Blossom, owner of the local brothel, and Jamie Chung (Sucker Punch; The Hangover Part II) is Lady Silk, the object of the Blacksmith's affections.
The opening titles of the film are awesome - the old school credits come up over an insane kung fu melee set to Wu-Tang music. All I really wanted from this film is a bunch of rad fight scenes set to hip hop, and the opening set-piece very much satisfied this need.
The action is never less than awesome throughout - the wide variety of set-pieces very much feel born out of a fan's devotion to the genre - this is the kind of stuff that only comes from endless hours spent devouring kung fu movies. I just wish RZA had decided to set more of the action scenes to Wu-Tang music - aside from the opening gambit and maybe one other scene, all of the fights are accompanied by a boringly conventional score.
Furthermore, the film struggles a bit outside the action scenes.
RZA's considerable natural charisma livened up his performance as himself in 2003's Coffee and Cigarettes, and while he's done an okay job with supporting roles in Funny People and TV's Californication, he struggles to project a more traditional leading man presence in The Man with The Iron Fists. Plus his climatic fight scenes suffer for his clear inability to master movie-friendly kung fu moves, and his romance with Lady Silk never quite pops.
However, Rick Yune is a lot of fun as the no-nonsense Zen Yi, and highlights one of the more interesting aspects of the film - the wide variety of creatively deadly weapons used by all the characters.
Wrestler Dave Bautista is well-cast as the indestructible 'Brass Body' and Bryon Mann (who unmemorably played Ryu in the 1995 Van Damme Street Fighter movie) has some cool moments as the dastardly Silver Lion. 36th Chamber star Gordon Liu naturally turns up aswell, offering a slightly more benevolent spin on the mentor character he played in Kill Bill Vol. 2.
Although something of a casting coup for such a small movie, the presence of a sweaty and overweight Russell Crowe does not benefit the film at all - his painfully prolonged orgy scene was hugely traumatic, and I'm still recovering from it.
Indeed, the film has a pretty juvenile approach to sex overall, and while it doesn't completely derail the proceedings, it makes the enterprise harder to take seriously.
But as the ultimate vanity project/fan film, it's hard not to like. RZA may not exactly be announcing himself as a major new directing talent, but his love for the world he's playing in is palpable, and there are just enough highlights to maintain interest. It's a cut above every other movie a rapper made starring himself, but that's not saying much.
When it first emerged that The Man With The Iron Fists would be going straight to DVD/Bluray in this country, I was crestfallen - I figured the local market that eagerly devours so many dance movies could easily prop up this sort of thing - now that I've seen the movie, it seems like the lounge is the right place for a film with such niche appeal.
As a proud part of that niche, I had a ball, but those not interested in kung fu movies may not get much out of the experience. I would still be into RZA going ahead with his planned remake of The Last Dragon, although I suppose that seems less likely now.
Seen The Man With The Iron Fists? Dig? Are you gutted it didn't receive a theatrical release? Comment Below!