Kiwi dancer's captivating solo performance a welcome addition to NZ Dance Company's touring programme.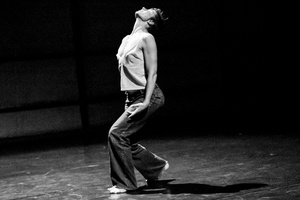 When Ursula Robb, New Zealand dancer turned global star, takes the stage in her stunning solo Faune, set to Debussy's most famous Prelude a l'apres-midi d'un faune, the everyday world stops and there is only this nascent little creature in its woodland grove, somewhere else.
And we are transported in totality to a tender, instinctive, vulnerable yet brave place with every gorgeous stretch of limb, tilt of head, tentative exploration and playful leap, while the little creature's wide-mouthed cries protest silently but so potently of the mysterious pain/joy of life itself.
This is what dance can do when the physical body is honed to a perfection of control and understanding and its message is received by others, seemingly from another dimension. To be there, in that moment, is a once - or maybe twice - in a lifetime magic.
Choreographed by Anne Teresa de Keersmaker, founder of Belgium's Rosas company, and taught to Robb by Keersmaker and Mark Lorimer, who first danced the role, Faune is the only new addition to New Zealand Dance Company's premiere programme so sumptuously performed in 2012.
Robb will perform the piece in Wellington, but in Warkworth, Whangarei, Orewa and Hastings it will be replaced by another new work, Without Eve, which promises an hilarious view of male conversation - think Stone Age grunts and gestures - created by emerging Unitec choreographer Ashleigh Coward.
One year on, the Language of Living has settled into its splendidness. On its first outing the extraordinary curtain set and sophisticated lighting effects, the costuming, especially the scarlet flashed bird outfits, the presence of wonderful live musicians, and the excitement of the whole big, new venture, almost overwhelmed the beating heart of the dance.
This time round the glint of over-polishing has settled into a professional patina of excellence and the works themselves pop with new depths of beauty and style. The dancers include veterans Craig Barry, Justin Haiu, Tupua Tigafua, Lucy Lynch and the sensuous Hannah Tasker-Poland, all at the top of their game, and gorgeous newcomers Gareth Okan and Pamela Sidhu.
Dance review
What: Language of Living 2013 North Island Tour
When: Aotea Centre, then touring