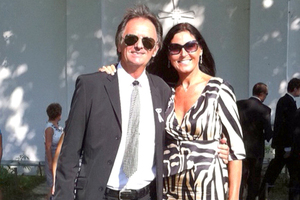 A Kiwi pop star from the 1960s was due to marry for the first time overnight in London.
Bogdan Kominowski, 68, was known as Mr Lee Grant when he had a string of hits such as Opportunity, which topped the New Zealand charts in 1967.
His bride is Joanna Rowley, 49, an executive with the National Geographic Channel. They have been together for 25 years.
Kominowski was born to Polish parents in a Nazi concentration camp just outside Dusseldorf in Germany. His father was killed but he and his mother survived and emigrated to New Zealand in 1949, settling in Palmerston North.
After repeatedly topping the charts and starring on the TV pop show C'mon, Kominowski went on to forge a film career in his birth name, most memorably as a Russian villain in the James Bond movie, A View to a Kill, in which he was tossed off a cliff by singer Grace Jones.
One of the best men at this weekend's wedding, producer and former TVNZ head of entertainment Peter Grattan, told the Herald on Sunday that there would be many guests from the West End stage and movies.
Kominowski has just finished working with Keira Knightley on the Kenneth Branagh-directed movie, Jack Ryan.
"Bogdan is looking and singing as good as ever," Grattan said. "It's a first time being married for both." He was last in New Zealand 20 years ago as lead in a stage production of Phantom of the Opera.
"He's still a Kiwi at heart," Grattan said. "He loves watching the All Blacks."
Grattan said the wedding guests would be entertained until dawn by some of the West End's best singers.
The newlyweds will honeymoon at their villa in Portugal in July.