Daft Punk's ambitious new album created a frenzy even before it was released, and as it tops the charts around the world this week, including here in New Zealand, Dorian Lynskey gets beyond the helmets to talk to the notoriously shy French duo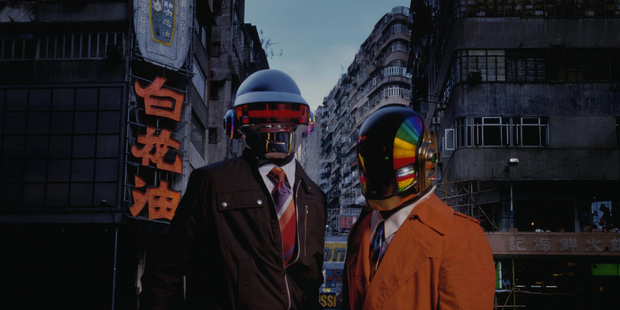 It is a peculiar experience meeting the most famous faceless musicians in the world. Daft Punk are certainly well known. Eight years after their last album, their influence can be felt throughout dance music and beyond.
Their fourth release, Random Access Memories, is the most hysterically anticipated record in years: every tidbit disseminated online over the past two months has been scrutinised like a fragment of the true cross. At a point in their career when most bands are on a downward slope, Daft Punk are celebrating yet another hit single, Get Lucky, and are somehow bigger and more famous than ever.
But the two Frenchmen sitting side by side on a sofa in a luxurious Paris hotel suite - Thomas Bangalter, 38, and Guy-Manuel de Homem-Christo, 39 - are very much not famous. Their last unmasked photo shoot was in 1995 and for the past decade or so they have hidden inside the helmets of their robot alter egos. But helmets would look, well, daft in an interview, so here they are in the reluctant flesh.
With his receding hairline, grey jacket and lean, thoughtful face, Thomas has a professorial air, and delivers smoothly erudite monologues in a voice rather like Vincent Cassel's. Slumped beside him, in black jeans and a T-shirt advertising Italian prog-rock band Goblin, Guy-Man looks and acts at least a decade younger, long-haired and taciturn, like a problematic exchange student. It feels as if a hip TV academic has, for his own quiet amusement, decided to bring his surly nephew to work for the day.
Of course, Daft Punk would argue that any impression of them as people is irrelevant. "The robots are part of the fiction and it's not really interesting to see what's behind it," argues Thomas. "When you look at C-3PO and Darth Vader and then look at the actors behind them you can't really make the connection. It kills the magic. I feel the robots are the same." Guy-Man grunts in agreement. "They're more interesting than us for sure."
Five years in the making, Random Access Memories is a fabulously, heroically, sometimes ridiculously ambitious enterprise. First there's the cast of guests, which includes disco pioneers (Giorgio Moroder, Nile Rodgers), indie-rock stars (the Strokes' Julian Casablancas, Animal Collective's Panda Bear), house producers (Todd Edwards, DJ Falcon) and R&B royalty (Pharrell Williams). Then there's the sheer sonic opulence, attained by snubbing computers in favour of veteran session musicians, legendary studios and a 70-piece orchestra.
Finally there's the promotional campaign, which involves costumes designed by Hedi Slimane, a series of playfully ingenious teasers starting in March, and a worldwide album launch in, of all places, the small rural Australian town of Wee Waa last Friday. Set against most of the year's "big" releases, Random Access Memories resembles Gulliver in Lilliput.
Five years ago, Daft Punk surveyed the music industry's diminished landscape of slashed budgets, shuttered studios, MP3s and GarageBand loops and decided to do the exact opposite, inspired by the musical Everests that dominated their childhood, from Dark Side of the Moon to Thriller. It's significant that the final track on Random Access Memories, Contact, samples the voice of Captain Eugene Cernan, the last man to walk on the Moon, because the album betrays a fervent longing for the days of giant leaps.
"The music that's being done today has lost its magic and its poetry because it's rooted in everyday life and is highly technological," says Thomas with a sorrowful expression. "Then you have this classic repertoire of great music that feels like it's coming from this other, timeless place. We wanted to say that these classic albums that were ambitious in scope don't just belong to the past."
It is a grand throw of the dice for a pair of shy, stubborn Frenchmen who started out making noisy techno in their bedrooms. They could have saved themselves a great deal of time and money (they funded it themselves, only later partnering with Columbia Records) by making an album of catchy dance-pop, but they chose the hard way. If their 1997 debut, Homework, reshaped dance music and the impact of 2001's Discovery, a love letter to disco and soft-rock, is still echoing through pop now, then their hope for Random Access Memories is to inspire other artists to dream big. "It's only a state of mind to globally change," says Thomas.
According to Thomas, Random Access Memories is like a movie, a painting, a fashion collection or "going on a journey in a small boat but you don't know if you're going to reach the other shore".
Guy-Man, meanwhile, says precisely nothing for the first half-hour, preferring to sip his espresso, text, stare at the ceiling and generally pretend that I'm not there, his face naturally arranging itself into a weary scowl.
Thomas says that when they were composing the score for 2010's Tron: Legacy, he wrote the "good guy" themes while Guy-Man handled the "bad guy" music. This makes a lot of sense.
Eventually, in desperation, I ask Guy-Man if he agrees with Thomas' last answer. "Yes," he says witheringly. "If I disagree I will tell you." I ask him why he's stayed silent. "Silence is better," he shrugs, and Thomas laughs.
The duo met in 1987 at Paris' Lycee Carnot, whose other prestigious alumni include Jacques Chirac and Dominique Strauss-Kahn. "We were still children so we formed each other," says Guy-Man, finally surrendering to the interview. "There's so much that is unspoken. It's like an odd couple. Some couples will argue until they die, but some don't speak and enjoy looking at the sunset, you know?"
Thomas's father, Daniel Vangarde, produced French disco hits in the 70s - DISCO for Ottawan and Cuba for the Gibson Brothers - and Guy-Man's father worked in advertising; they shared a privileged upbringing. Their first loves were Jimi Hendrix, the Velvet Underground and Phantom of the Paradise, the bizarre 1974 musical horror movie that Brian De Palma made with Paul Williams. "It covered everything we liked when we were teenagers: horror, rock, musicals, glam," says Thomas, glowing with fandom. "Listening to Led Computers aren't really music instruments. And the only way to listen to it is on a computer as well. Human creativity is the ultimate interface. It's much more powerful than the mouse or the touch screen.Thomas BangalterZeppelin songs backwards, watching Texas Chainsaw Massacre on VHS and getting Kiss and David Bowie albums. It synthesised all of these elements."
In 1992, they formed a lo-fi rock band called Darlin' (after a Beach Boys song) with their friend Laurent Brancowitz. Darlin' released just a handful of songs, which were dismissed as "daft punky thrash" by music paper Melody Maker.
Tweaking this insult into their new name, Thomas and Guy-Man switched to basic electronic equipment bought with Thomas' 18th birthday present of £1000, and released three singles on the Scottish dance label Soma, including the groundbreaking Da Funk.
This was a period when the likes of the Prodigy and the Chemical Brothers were proving dance music could transcend clubland to deliver big-selling crossover albums. When major labels came running, they were made to feel that they needed Daft Punk more than Daft Punk needed them.
Daft Punk's 1997 debut album, Homework, recorded entirely in Thomas' bedroom, filtered house and techno through a love of classic rock. The cover displayed a logo patch sewn on to a black satin jacket, while the inner sleeve depicted a desk cluttered with adolescent artefacts, including a 1976 Kiss poster and a Chic single sleeve. Guy-Man, who designed the artwork, says that Thomas is the "hands-on technician" while he is the "filter": the man who stands back and says oui or non.
The hit single Around the World displayed a then-unfashionable love of disco, which attracted the attention of Chic guitarist Nile Rodgers. "The genius is never in the writing, it's in the rewriting," says Rodgers. "Whenever they put out records I can hear the amount of work that's gone into them - those microscopically small decisions that other people won't even think about. It's cool, but they massage it so it's not just cool - it's amazing."
For the next few years, Daft Punk could do no wrong. They commissioned striking videos from Spike Jonze, Michel Gondry and Roman Coppola. Madonna and Kylie had number-one hits that sounded uncannily like Daft Punk. In 2001 the retro-futurist Discovery revived appreciation for the kind of glossy soft-rock and 80s pop that most bands deemed too cheesy.
"Homework was really to show the rock kids that techno is cool and Discovery was to show the techno kids that rock and soft-rock can be cool," says Thomas.
It worked. They were sampled by Kanye West (whose forthcoming album they've worked on), celebrated as the gold standard of hipster cred in LCD Soundsystem's Daft Punk is Playing at My House and energetically homaged by younger artists, such as Justice.
There was a downside to the unbroken acclaim though. The more that other people sounded like Daft Punk, the harder it become for Daft Punk to do something new. Their third album, 2005's rough, ornery Human After All, was poorly received and left Daft Punk unsure what to do next.
"Usually a band 20 years into its existence doesn't put out its best records," says Thomas. "That was something we had in mind - to try to break that rule. It's not intimidating, but it takes time."
So Daft Punk stopped thinking about albums. Instead, they mounted a groundbreaking world tour, their first since 1997, that did for live dance music what Pink Floyd did for stadium rock. And among other things they scored Tron: Legacy for Disney and both started families; Thomas has a second home in LA with his actor wife Elodie Bouchez. In the absence of any new Daft Punk music, their back catalogue nourished America's EDM (Electronic Dance Music) explosion from which the likes of Skrillex emerged.
Daft Punk pull faces when I mention their influence on EDM. "Pthrrrrt," says Thomas. "On one hand we're flattered. On the other hand we wish people could be influenced by our approach as much as our output. It's about breaking the rules and doing something different rather than taking some arrangements we did 10 years ago that have now become a formula."
Thomas blames the machines. For a man who has spent 12 years pretending to be a robot, he takes a remarkably dim view of digital music. "Computers aren't really music instruments," he sniffs. "And the only way to listen to it is on a computer as well. Human creativity is the ultimate interface. It's much more powerful than the mouse or the touch screen."
As an antidote to those wretched machines, they recorded Random Access Memories entirely live, with dozens of musicians, in studios in Paris, New York and Los Angeles. The way individual collaborators describe their understanding of the record recalls the fable of the blind men and the elephant: each one grasped only a fraction of the whole. "They didn't tell me anything," says Giorgio Moroder, who spent four hours talking about his life for the extraordinary disco history lesson Giorgio By Moroder. "Zero. I had several dinners with the boys and I didn't even ask because I knew they wouldn't tell me."
Nile Rodgers too had little to go on: "What I worked on was quite bare bones and everything else grew up around me. They just wanted me to be free to play. That's the way we used to make records back in the day. It almost felt like we'd moved back in time."
And perhaps that's the key to Daft Punk's current mission: using their privileged position to reinvent old methods pour encourager les autres.
"We're not in a golden age of audiophile excellence and craftsmanship," complains Thomas. "But there's maybe a way to put back a certain optimism. There's things that can be done with music. It's an invitation to variety."
Who: Daft Punk, real names Thomas Bangalter and Guy-Manuel de Homem-Christo
What: Man robots and pop music innovators
New album: Random Access Memories, out now
Also listen to: Homework (1997); Discovery (2001); Human After All (2005)
- TimeOut / Observer