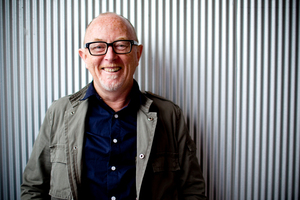 Dave Dobbyn reckons that in 25 years, composers will be able to merely think of a new song and it'll be recorded and able to be distributed around the world in an instant.
The Kiwi music legend was part of a panel of music industry leaders gazing into their crystal balls during a discussion in Wellington last night on how technology is driving music.
Dobbyn, a self-confessed technology fiend, has just moved into a new studio where he is incorporating his beloved old 16-track recorders with the latest Pro Tools recording system.
"I love technology and I love using it, but at the same time I love old technology as well and I embrace that just as much," he said yesterday.
"Technology makes a lot of things easier but it also demands that you get hip, get wise and know stuff, just learn as much as you can about being a professional artist. And it's a tough life, making music."
Two decades ago it was inconceivable a tiny device like an iPod could hold 40,000 songs, and Dobbyn had no doubt technology will be equally amazing in another 25 years.
"I reckon the actual technology will be invisible ... and making and disseminating the music will be more and more direct. Accessing it, collecting it and using it will be a very short journey - instantaneous - and probably you'll be able to think of a song and some implant you're wearing will manufacture it in your ears. It would be quite cool, but kind of spooky at the same."
He said the infinite amount of music available through technology these days was having a huge impact on how music was made.
"Your own musical education is expanding by listening to a whole lot of eclectic stuff so what informs artists is so much more of a palette now.
"But anything they come up with as a response to that will have the stamp of their geography on it and their own sense of time and place. And that excites me very much."
Fellow panelist and music industry veteran Simon Grigg was certain only that the future music technology would be out of left-field.
"We're only at the germ of the digital revolution now so who knows where it's going to go," he said.
- APNZ