Former TV host says satirical role should be a doddle.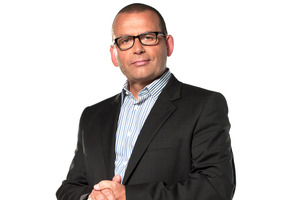 He has long-aspired to have his own television talk show and has pitched himself to Hollywood heavyweights, now Paul Henry is getting his wish ... sort of.
"I'm making a small movie in Los Angeles about my frustrations trying to break into the Hollywood market," Henry told The Diary. The opportunity, he says, was too good to say no to.
The short film, a mockumentary with the working title Desk, will make light of Henry's wanton ambition to be the next king of chat. It's life meets art, Henry says, and he's not ashamed to take the mickey out of himself. Arguably, something he's built a career on.
"Essentially the movie is about me in a U-Haul truck going from one meeting to the next trying to get a talk show up and running.
"I go and buy a desk for my talk show, which of course I don't actually have yet. My entire talk show set is inside the U-Haul and I show up unexpectedly at stars' homes to interview them.
I knock on doors trying to get celebrities to appear on my show from inside the truck."
Everyone plays themselves. It's Curb Your Enthusiasm meets Entourage and Henry says he has more than enough personal experience to draw on.
"I've had a lot of meetings in Hollywood and New York over the last couple of years." [Before his ill-fated spate on Aussie breakfast TV]. "At one meeting with Comedy Central executives, I had my own entourage of nine people! Just for me! I thought, this is f**king cool ... Going to the meetings is almost better than getting the job."
Desk will be shot in California over three weeks and aims to screen at the next Sundance Film Festival. Henry says there's some "well-known Hollywood characters behind the production".
The cast, too, will feature cameos by "a couple of well-known faces", but Henry won't stipulate who. He doesn't have those details yet, and is yet to read a script. "I'll put it off until just before shooting. The storylines are framed tightly, but it'll be loosely scripted. I play myself, how hard will that be?"
He won't reveal how much he is getting paid for the project, but says he'd "gladly do it for nothing".
"It's a bit of a fun and a fantastic experience. I'm a glass-is-always-full guy. Any twist is just another opportunity. Life is good," Henry opines.
He jets out on Friday with his daughter, Lucy, and is keen to get back into his American way of life. "I get to LA and I have my Mustang, with my American phone and my American bank account and I'll drive to Santa Barbara, or Santa Monica. I love it there."
But it's back to TV3 in August where contractual duty calls. Quite what is yet to be determined. Henry is hashing out details with the network's CEO, Paul Maher, and news boss, Mark Jennings, about a new role. They're keen to maximise his talent; he's keen to get back on TV.
Talent show 'well supplied'
TVNZ insists there's no truth to rumours that auditions for New Zealand's Got Talent are of poor calibre this cycle because rival TV3 made auditioning X Factor contestants sign contracts excluding them from NZGT. "We've had plenty of X Factor rejectees at the auditions," said a rep for the show.
Open auditions began last month and will wrap on June 9. Filming with the judges starts in July. But TVNZ is keen to make the distinction this is more a variety show; not a singing competition (like its rival). "This year we've had a broader spectrum of talent apply. There's more performers and dancers. The dance community is abuzz because Cris Judd is coming".
Judd, 43, a choreographer whose biggest claim to fame is a whirlwind nine-month marriage to Jennifer Lopez, joins the judging panel alongside Jason Kerrison and Rachel Hunter. He replaces Ali Campbell, 54, from UB40 who brought a singing pedigree and celebrity renown. Judd's fame is, like the contestants, on the rise.
Twitter travel diaries
Have diary, will tweet. That's the word on the tourist street for prominent New Zealanders keen to keep their fans and followers back home abreast of their overseas jaunts.
This week, we found Rachel Hunter taking selfies in Vienna, Austria. But it wasn't all peaches and cream on the tourist trail. "The problems of travelling by yourself," she wrote on Instagram, is "trying to get in the shot".
Minister Maurice Williamson, who is in Indonesia on a New Zealand business delegation, has kept us up to date with an exhaustive account of his junket. He went shopping, discovered where Abel Tasman is buried, and enjoyed a barbecue interrupted by "an amazing cloud burst of rain". Did someone say rainbow?
The Black Caps (surely Black Craps?) may have lost, dismally, but that didn't stop a night out on the town in swanky Mayfair last night. "Just at Crown Aspinalls London," Ross Taylor tweeted.
"What a place."
The Aspinalls Club in exclusive Mayfair - part of Crown's gaming empire - is a high-end London-based casino. Quite why our boys were dining there following their humiliating test defeat, is unclear. Details, like our runs on the board, were evasive.
Fashion cops patrol show
Want to go to the filming of an X Factor live show? Then leave the school uniform at home.
Producers insist audience members "dress appropriately for TV". What does that entail? "No corporate logos" - that's free advertising. "No sunnies" - it's dark inside Auckland Film Studios. "No open-toed shoes, no hats, no stripes and no school uniforms".
Unadorned mufti it is. But fuggedabout wearing white. "No white clothing allowed," producers say.
White garb stands out in the auditorium when the cameras pan over and all eyes need to be on the contestants battling for survival.