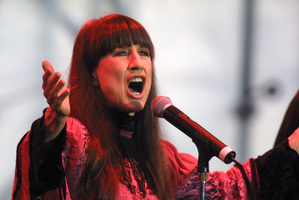 The Seekers singer Judith Durham has suffered a brain haemorrhage midway through the band's Golden Jubilee tour.
Durham was admitted to hospital in Melbourne overnight and is undergoing tests for the potentially life-threatening condition.
The 69-year-old singer is said to be in "good spirits" and will spend several days in hospital while doctors carry out further tests.
Durham first complained of pressure to her head during The Seekers' opening concert at Melbourne's Hamer Hall on Tuesday night.
She later retired to her hotel room to sleep off the pain and at midnight asked her personal assistant to call for a doctor.
"She was coming back from the show when she said to her PA 'I just don't feel right, something is wrong'," a spokesman for The Seekers told AAP on Wednesday.
"She went back to her room but it was quickly clear that she wasn't well and they called and ambulance that took her to hospital.
"She is in good spirits and has been moved to her own room."
The Seekers have cancelled the remaining dates of their 50th anniversary tour, including shows in Sydney, Brisbane, Adelaide and Perth, until further notice.


- AAP