Gerard Gilbert talks to the suffragette star of Parade's End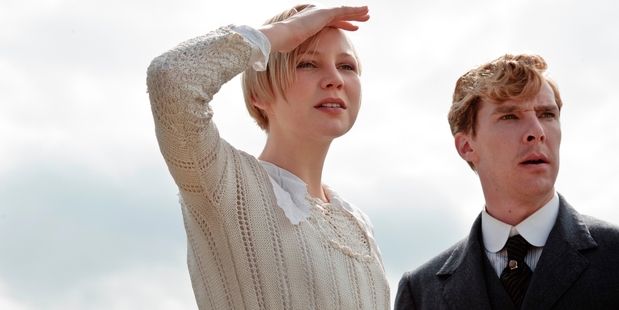 Tom Stoppard's BBC2 adaptation of Ford Madox Ford's Parade's End has sharply divided opinions - baffling and boring as many people as it has beguiled - but on one score the consensus has been universal. And that concerns the pellucid, daisy-fresh performance of 22-year-old Australian actress Adelaide Clemens as Valentine Wannop, the bobbed suffragette who manages to breathe passion into Benedict Cumberbatch's crusty, duty-bound "last Tory", Christopher Tietjens.
Valentine could have been a thankless role for a young actress. Clemens could have struggled to shine beside two thoroughbred thespians in Cumberbatch and Rebecca Hall, the latter fed many of the best lines as Tietjens's reckless wife, Sylvia - some aimed against Valentine, her husband's "little games mistress" and "the scrubbed lady's champion of the regular bowel movement". But then a strong pointer to Clemens' beautifully truthful performance can be discerned in the extraordinary determination that she showed in winning the part in the first place.
She was in deepest Louisiana, on-set of a cheapo horror when the script for Parade's End arrived. "I've never been filled with such conviction that I needed to pursue a role. I thought about it constantly. Literally, they would shout 'cut' on the horror film and I'd run back to my trailer and I'd be reading all these books that I bought on the Pankhursts."
After badgering casting director Karen Lindsay-Stewart, Clemens was granted a Skype conversation with Parade's End director Susanna White. "I was in this revolting hotel room in Louisiana, with a terrible internet connection so there was a 15-second delay," she says. "My final 'no' was after that. I was heartbroken, but at the same time I kind of thought that, based on that [Skype interview], that it was ridiculous. I literally wrapped the horror film and booked a plane for London, and asked Susanna for 15 minutes of her time. I thought it would be a good idea to show up in full period dress as I couldn't let a pair of jeans come between me and playing Valentine. I walked from Euston to Soho in full period dress."
Even then Clemens had to hold fire on her 15-minute shot at winning the part, because her interview was held up for a certain "Tom". "So I'm waiting for this Tom and getting very irritated with Tom, and then Tom Stoppard walked out and I just died." Stoppard drilled Clemens on her English accent, although Benedict Cumberbatch was, he has said, won over in an instant.
"I really love fighting for a role," she says. Presumably now, after her winning performance in Parade's End, she won't have to fight so hard. "I hope it will help me at least give casting agents a frame of reference. I mean I've been over to London before and tried for castings and they've just said, 'Oh, who are you, darling? What are you doing in my office?"'
Who indeed is Adelaide Clemens? The eldest daughter of an Australian nurse and an English-born marketing manager for the distiller Seagram, Clemens was born in Japan, lived in France until she was six and then moved to Hong Kong, honing her English accent at a British international school. She moved to Sydney at 12, leaving school four years later to act in Australian television, before taking herself off to Los Angeles at the age of 19. "I moved out to LA purely out of curiosity because everybody said you have to earn your stripes, and I just thought, 'What if LA is a miserable place to be?' And if it's miserable I might as well go and choose a different vocation."
She took time out of the 17-week Parade's End shoot to film Baz Luhrmann's 3D version of The Great Gatsby, which stars Leonardo DiCaprio as Jay Gatsby.
Clemens plays Catherine, in a period role that is the polar opposite to Valentine Wannop.
"She's a nerve-pill popping gossip who corrupts poor little Long Islander Nick [Carraway, played by Tobey Maguire]." It's a small role, but typically Clemens has read F Scott Fitzgerald's novel from cover to cover.
Most recently, she has just finished filming Rectify, from the producers of Breaking Bad and the first original scripted drama series for Sundance channel, the cable station created to show independent movies. She plays the step-sister of a man released after 18 years on Death Row.
It is a career that is obviously gathering pace, and Parade's End can only accelerate the process. "I never had training," says Clemens. "I just love that intimacy you have with the camera, it is a very psychological investigation of myself."


• Parade's End screens on UKTV on Sundays at 8.30pm.
- Independent