Jordan Luck, 51, is one of New Zealand's living pop legends, writer of Victoria and Why Does Love Do This to Me among many other hits. He and his former band the Dance Exponents are the subject of a new documentary on Prime TV this month. He's also enjoying the benefits of having given up drinking.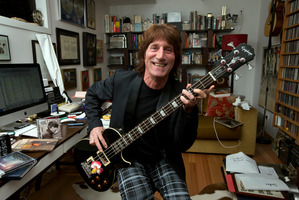 1. Groupies - did the Exponents have many?
I wouldn't say groupies. I'd say we had many aficionados of music. Music-loving aficionados. It's one of the reasons I'm not on Facebook or the Book of Face as I like to call it. I thought mobile phones were really exciting when they first came out too but now I think "oh no, there's nowhere to hide". We used to be able to hide. And the ability to have some anonymity is a glorious thing.
2. What's the best lyric you've written?
Don't know about best but there's this from Social Life: "The girls and the boys, their life is a seat, that they spill their drinks on, til it's time to leave." Not bad for 1977.
3. You're looking remarkably well preserved for 51. What's the secret?
Nine months now without beer. I stopped in '92 as well for a bet. But it's different now. My diet's different. I eat mainly fish and grains. I'm really down on the sugars.
I've lost a lot of weight. And as you say, the skin looks good.
4. What made you stop drinking?
I was having petit mals [epileptic absence seizures] when I stopped. A couple of them anyway and it was the health factor. 'Tis easier to abstain than moderate. Booze is a great thing for most people. I just think my metabolism started giving me warning signals and luckily my brain took over.
5. Who is the love of your life?
My mum and dad are really. They really looked after me and left me alone at the same time. I don't ever remember being reprimanded for being adventurous and I was particularly happy being left to my own devices as long as I had an exercise book and a pencil and an eraser. That's what I used to call them. Erasers. No one knew what I was talking about.
6. Your son Tyler is almost 21 - what kind of a dad have you been?
Me and his mum split up when he was 2 and he grew up on Norfolk Island. I think Norfolk was a far better parent than I was. Now we get on great. I remember him arriving at Auckland Airport when he was 11 - I hadn't seen much of him for years - and I held his hand as we were walking to get his bag. He said 'is it okay if I call you Dad?' And I said 'yeah, so long as I call you Son.' And we laughed.
7. Who is New Zealand's greatest songwriter?
I've got a lot of favourites but considering the magical catalogue that he's got and the diversity of his recordings, I'd go for Chris Knox.
8. When were you at your richest?
I always am when I'm on stage. Hay-carting was my job for three summers before the band really kicked in and I made more money doing that 'til at least the early 90s. [The band] used to pool our money and we tried not to spend money on our recordings but get the record company to do it instead. That was a bit of a mistake in retrospect. We were getting 25 per cent of the royalties. We take 90 per cent now.
9. So there were some lean times?
I used to be able to live off a bag of rice and some soy sauce. That was one reason we loved touring - the pub owners would feed us. We also used to hang our tea bags on the line to dry. True story.
10. You supported David Bowie, and the Rolling Stones. Got any good stories?
Bowie was a great guy. He yarned with my mum backstage for half an hour. Turns out she'd taught at the school he'd attended in Brixton, but not at the same time. He was very affable and he stood side of stage when we played. The good artists do that - watch the support act. Keith Richards and Mick Jagger did too.
11. Will you still perform when you're 70?
I don't think like that. I'm enjoying my voice at the moment though. It's deeper. I'm still asking myself the same thing I was when I was 18, which is how do you deal with this ageing thing.
12. And are you still writing good songs?
It's a real problem at night because tunes are still coming and I feel slightly remiss when I don't write them down. Lyrics are a bit harder. I don't want to be repeating a sentiment. And I'm conscious that I could be singing them in 10 years' time. I used to think pop songs just went away. Turns out they don't.