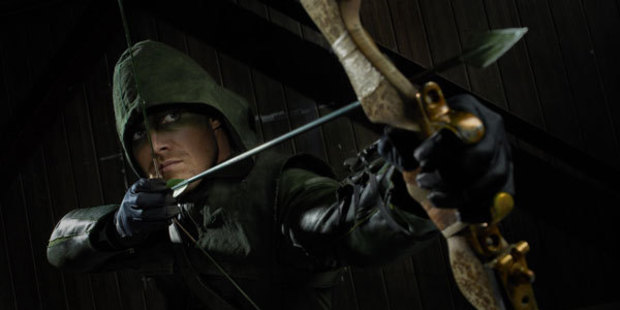 There's been an archery revival in pop culture of late, including Katniss Everdeen in The Hunger Games, Merida in Brave, Legolas in The Lord of the Rings and Marvel's Hawk Eye in The Avengers.
Now it's Oliver Queen, aka Oliver Green, in Arrow, a series modelled on DC Comics character Green Arrow.
Following in the footsteps of Batman and Iron Man, Queen is a billionaire businessman who wants to save Starling City.
He doesn't have a superpower, just plenty of cash (to buy things like arrows, a few dark green hoodies, and some cool technological crime-fighting gadgets), and some very good archery skills.
Queen (played by Stephen Amell) was the only survivor after a storm destroyed his family's superyacht.
The younger sister of former girlfriend Laurel Lance went down with the ship, and Queen had been having an affair with her. His father, Robert, died in the liferaft.
Queen then spent five years marooned on an island in the North China Sea, fighting to survive. It was a brutal existence which honed his physical senses: "To live, I had to forge myself into a weapon."
When he returns home he follows his father's dying wish to right the wrongs of the Queen family - which had come to monopolise the city - and fight the ills of society.
By day he tries to keep up his playboy image, reconnect with his wayward sister, keep an eye on his mother and her new husband, Walter Steele (his father's former business partner), and keep his new bodyguard, John Diggle, under control.
By night he's a green-hooded vigilante, not so far removed from Robin Hood (but minus the tights) who wants to hunt down the city's tyrants, including Adam Hunt, a corrupt millionaire who scammed hundreds of people out of their savings.
Lance, working as a legal aid lawyer, is also out to get Hunt, which makes Queen all the more determined to serve Hunt some justice - particularly as Lance is not yet ready to forgive him for what happened to her sister, or for his past indiscretions.
When: premieres Monday, 9.15pm, and then screens regularly on Wednesday, 9.35pm
Where: TV2
What: DC Comics hero takes a bow on TV
Music pick: UNSUNG HEROES OF MAORI MUSIC - PRINCE TUI TEKA
Prince Tui Teka is far from an unsung music hero, but this special stand-alone episode of this excellent series is timed to coincide with Mother's Day. You see, although Prince Tui's most famous song is E Ipo - with the lovely spoken word interlude for his wife ("My darling Missy, you are always on my mind") - another of his hits was called Mum. This look back on his life and career features archival footage of live performances, including Mum, as well as never-before-seen footage of him with the Maori Volcanics on tour in England. As well as interviews with old band mates and friends, the doco goes back to when Tui Teka left New Zealand aged 15 to join the circus in Australia. It tracks his career across the Tasman, around the world and as a chart-topper in New Zealand when E Ipo went to No1 in 1982, before his death in 1985.
When: 8.30pm, Sunday
Where: Maori
What: For Mum's day
Retro pick: JONES!
If your VHS box set copies of Mork and Mindy and Happy Days are a little hard to watch these days - probably because you threw out your video player years ago - then never fear. Sky's new old-school TV channel JONES! starts on Monday and brings you shows like that, and many more, from Dad's Army to The A Team. The channel also screens William Shatner's 80s cop show TJ Hooker (Tuesday, 9.20pm) in New Zealand for the first time. Shatner, here in March to promote the launch of the channel, plays Hooker, a cop with a bad attitude, and the series also stars a young Heather Locklear. Other first week highlights include Happy Days (Monday, 6.30pm), Cheers (Monday, 8pm) and classic western Bonanza (Tuesday, 2pm and 11.30pm) which stars Lorne Greene as Ben Cartwright and Michael Landon as Little Joe.
When: Starts Monday, 1pm
Where: Jones! (Sky Channel 13)
What: Old school TV shows
Documentary pick: PRIME PRESENTS: ARE WE STILL EVOLVING?
Don't expect to find a definitive answer to the question this documentary, presented by anatomist and anthropologist Dr Alice Roberts, ponders in its title. And as a Guardian review said of the 2011 doco: "How irritating."
Nevertheless, it raises some fascinating questions as the likeable and deeply passionate Roberts delves into everything from ancient human remains and how disease has shaped us, to cutting edge genetic research to consider what shape and make-up humans may take in the future.
When: Sunday, 8.35pm
Where: Prime
What: The shape of humans to come
Crime pick: STRANGEWAYS
The part genetic engineering plays in the evolutionary process is of particular interest for Roberts because, as she says: "This is a watershed moment in the future of human evolution, we are on the verge of being able to genetically engineer our own future."
It was immortalised in The Smiths 1987 album title Strangeways Here We Come, but life inside one of Britain's most notorious maximum security prisons is not much to sing about. Given access to film for nine months inside HMP Manchester (better known as Strangeways), this series is a fairly no-holds-barred look at what life is like for the inmates and the staff. The man who runs the prison, Governor Richard Vince, along with an array of murderers, rapists, bank robbers, and gang leaders are interviewed. As are the tireless staff who have their work cut out for them keeping drugs and homemade weapons out of cells, and trying to minimise violent attacks.
With 200 inmates in for life, and 1000 more with some very long sentences, depression and mental health issues are rife, and rehabilitation is complex.
When: Tuesday, 9.40pm
Where: TV One
What: Life on the inside
- TimeOut