British screen legend Terence Stamp talks to Peter Calder about life in the swinging 60s and channelling his father in his latest role.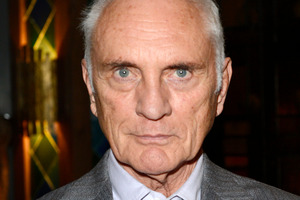 In What's It All About?, the first volume of his memoirs, the great Michael Caine recalls getting his breakthrough part, the title role in the 1966 hit Alfie. To his astonishment, he wrote, his good mate Terence Stamp had turned it down "and I actually spent three whole hours trying to talk him into accepting it. I still wake up screaming in the middle of the night as Terry takes my advice and accepts the role."
The chuckle that comes down the line from London as I mention the story to Terence Stamp in 2013 puts me in mind of oiled oak or melted chocolate.
"I don't think it's true that he ever recommended I take it," he says. "We did share a flat when we were young actors but by the time that occurred we weren't seeing much of each other at all.
"The truth was that I turned it down because I had just done the stage play on Broadway and it had flopped. I didn't want to do it, not because it had flopped but because I didn't want to do the same thing that I'd just been doing night after night eight shows a week."
Avoiding the obvious has been something of a career path for Stamp. The actor, who turns 76 in July, stars alongside Vanessa Redgrave in Song For Marion, which opens in cinemas next week. Both of the big stars are wonderful in an otherwise mawkish and predictable film about a curmudgeonly old bugger who has to cheer up. It seems almost sacrilegious to see the perennially dashing Stamp as a stooped pensioner and he admits he had reservations about taking the part.
"My best friend over here, somebody whose opinion I take notice of, said, 'The only problem is that you are opening a door that you won't be able to close. People will know how old you really are.'
"But once I had committed to it, I decided that the only kind of real working-class twin-soul relationship that I had ever known was my Mum and Dad so I will play it as Tom Stamp and I'll see how it goes. And once I had arrived at that insight it was just really easy."
The actor did say that playing an old fellow made him feel slightly self-conscious about "how the camera ... does really well by me".
"I thought it would be more moving if the characters were ordinary. So I tried to make it so that his exterior resembled his interior. He looks cantankerous."
The result is astounding. Stamp, the epitome of style, looks not so much dishevelled as curdled and, if he straightens out too suddenly and too improbably in the final reel, it's the film's fault, not his.
Filmgoers of a certain age will recall Stamp as the epitome of cool in the London of the Swinging 60s, not least for his famous liaisons with, in turn, Julie Christie, Brigitte Bardot and supermodel Jean Shrimpton.
For once that overused word "iconic" seems apt. Stamp and Christie were often spoken about as being the people referred to in The Kinks' 1967 hit Waterloo Sunset ("Terry meets Julie, Waterloo Station, every Friday night"), though the song's writer, Ray Davies, has since denied it, in interviews and in his "unauthorised autobiography".
"The only thing I know," Stamp says, "is what my brother, Chris, who sadly passed away a couple of months ago, told me. He told me that Ray Davies told him that when he wrote those lyrics he was picturing Julie Christie and me.
"Now he may have changed his mind. But my brother was his own man. He discovered the Who and was the first guy to record Hendrix. He wouldn't have said something like that, wouldn't have thought of it, if it wasn't true."
Stamp's comment about the camera "doing really well" by him is something of an understatement by a hell of a good-looking guy. He says that it wasn't until his first screen role, as the doomed innocent title character in Billy Budd, that he realised "this physical potential".
"I had never thought of myself as particularly good-looking. I wasn't a big smash with girls as a teenager - I was very shy. So when I realised that I was enhanced by film I just looked on it as a kind of wonderful gift, really. Suddenly I thought, 'God, I can really make a living doing this', and then what I wanted was a long career.
"So I started taking care of myself. I stopped drinking, I stopped smoking, I didn't take any dope. I started doing physical things, getting into the breath. From very early on, I was studying things that were considered very esoteric at the time and are very common or garden now. Like breathing and yoga and all that. By the time I made Far From The Madding Crowd I was already into that."
Indeed, his thirst for esoteric knowledge took him off the grid for half of the 70s.
"When the 60s ended, my career was effectively over," he recalls. "I couldn't get a job. I couldn't get arrested. I was so identified with the 60s, with the Swinging 60s, you know, O'Toole, Finney and all those guys - and the world changed. You can hear it in the music.
"I had become used goods, so I thought that rather than wait around and suffer the disappointment day by day, I'd travel - and I wound up in India and that really was a great moment in my life."
In that period as a dropout from celebrity, which included time in the ashram of Bhagwan Shree Rajneesh in its early days, Stamp says he subconsciously changed from a leading man into a character actor. So, when the call came to play the evil Zod in Superman and Superman II he was ready to leave.
"Well, I was gasping, wasn't I?" he says with a laugh (he had been reduced to selling some of the several dozen cases of Chateau d'Yquem, a great French sauternes that he'd laid in when times were good). "I had been out of work for eight years. And my agent said, 'You will have scenes with Brando', so I was there.
"When I found out I was a villain, I wasn't that concerned. I thought, 'It's a job and I'm getting paid to work with one of my heroes', so I put up with the green makeup and being lit from below and all that. I was really ready to go."
He turned down the chance to play in the Superman spinoff TV series Smallville because the pace of fast-turnaround television didn't suit his style, he says.
"But then they asked whether I would do the voice of Superman's Dad and I was really flattered. I'd worked for years on my voice and nobody had ever paid me for my voice.
"I was a real Cockney," he says. "I was born in Bancroft St, Bow. I learned to speak like this with a lot of money and great dedication. This a very expensive voice you are listening to."
Who: Terence Stamp
What: Songs for Marion
When: Opens at cinemas
- TimeOut