Veteran Sam Neill is breaking new ground, writes Nick Grant.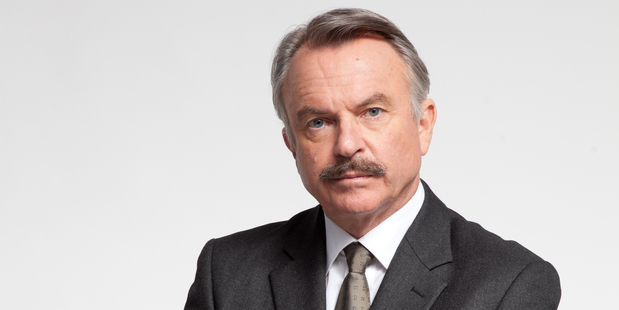 Sam Neill is one of New Zealand's most successful acting exports - since 1977's Sleeping Dogs he's appeared in more than 100 screen projects, including Jurassic Park, Reilly Ace of Spies, Dead Calm, Death in Brunswick, The Dish, The Tudors, and The Piano.
He's also an unusually courteous interview subject. When we're connected, the appointed time for our phone interview having long since passed, Neill apologetically explains he'd been caught up in conversation with another journalist. "Can you give me your number," he asks, "because I've got another coming in shortly and, if we don't get finished, I'll call you back."
We don't and, true to his word, he does.
The purpose of our chat is to discuss his part in Harry, a gritty new six-part crime drama on TV3.
Set in South Auckland, it stars Oscar Kightley as Harry Anglesea, a detective with the Major Crimes Unit who's trying to solve a string of P-fuelled offences while grappling with traumatic family issues.
Neill plays Harry's boss and mentor, Detective Jim "Stocks" Stockton.
Neill says he took the role for three reasons: "The producers were persuasive; I thought we could potentially be breaking new ground for New Zealand television; and I have a longstanding friendship with Oscar but we'd never actually acted together before, so that was an important factor."
That friendship dates back to when Neill got in touch with Kightley some years ago to tell him how much he liked his work. Neill suspects the accolade was also accompanied by a case of Two Paddocks wine from his Central Otago vineyard; a good way, he chuckles, "to ingratiate yourself with people you admire".
It's not the kind of gracious gesture likely to be made by Stocks, a gruff character Neill describes as "very much an old-school cop" who he likes to imagine is divorced and "living in old man bachelor squalor in a very ill-kempt flat somewhere not terribly appealing".
The makers of Harry wanted the show to be an accurate portrayal of police procedures and of how criminals operate, with each episode peeling back another layer of NZ's methamphetamine underground. The effort to ensure authenticity included bringing in former South Auckland detective Neil "Grim" Grimstone to co-write the series with Kightley and Christopher Dudman.
"Grim's not long off the force and he was very, very good to have as a kind of a yardstick," says Neill. "If things were wrong, he'd quickly put his hand up and make sure they were corrected."
Asked if Grim had much input into the moustache Stocks sports, Neill laughs.
"I thought the moustache made him a copper of a certain age," he says. "Like the rest of his generation - military men, generally, who'd been through the war - my father wore a moustache all his life, and so I've always attached a certain amount of respect and authority to a moustache; when I see one I sit up a little straighter.
"When the Beatles released Sgt Pepper's, suddenly moustaches were all the go again for a few years, but then for quite a while the only people who wore them were cops, the Village People and the All Blacks' forward pack. I thought, Stocks is certainly of that age and so he'd have a moustache.
"It was also convenient," Neill says. "I'd just done a film in England in which I had a beard; I just had to modify that and there was a ready-made moustache. I kept it on for the rest of the year because I used it on two or three more jobs, so the moustache had a good airing.
"After I finally shaved it off, it took me about a week to get used to my face again," he laughs. "I'd become accustomed to it and secretly rather fond of it. I'm over it now, but I was in a period of sort of mild mourning for a while."
In Harry, it's Kightley's character who's in mourning but, despite the comic performer admitting to some apprehension about his first entirely dramatic role, Neill wasn't rushing to offer his friend unsolicited acting tips.
"Oh, I would never presume to give Oscar advice about anything at all unless he asked for it," he says.
In any case, Neill subscribes to the view that comedy is much more difficult than tragedy.
"Many people can play straight but very, very few people can play comedy. What's deeply annoying," he drily notes, "is that many comedians become really good straight actors, but it never really works the other way round.
"And, of course, Oscar's got that fantastic face, which is tragic in repose and hilarious when he's amused. He really is like those two Greek masks you see that represent drama - he's got the acting duo right there."