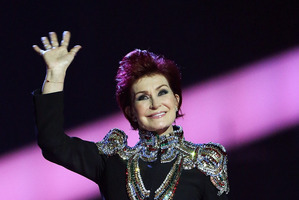 Sharon Osbourne has been subpoenaed to testify in the Michael Jackson wrongful death trial.
The Talk co-host revealed she was served with papers in Los Angeles on Tuesday, demanding her attendance to serve as a witness for the prosecution in the $40 million bitter battle between the late King of Pop's mother, Katherine Jackson, and concert promoters AEG Live.
Speaking after she received the official notification, Osbourne said: "I was like, what do you do (after being served)? You do your duty. Somebody asks you to come to court, you are subpoenaed and you do your duty."
Sharon Osbourne was previously named as a potential witness after she revealed that she may have evidence to support Katherine's claims that the promoters, who were responsible for the 50-date London residency he was preparing for at the time of his death from acute Propofol intoxication in June 2009, were negligent in hiring Conrad Murray to supervise the Thriller star's medical care.
The 60-year-old star, who recently admitted she is "devastated" after her husband Ozzy Osbourne relapsed and got hooked on prescription drugs over the past 18 months, said on her talk show last month:
"There were certain people that worked at that company (AEG Live) that knew that Michael Jackson was not well and didn't care because it was business. And, at the end of the day, whether he performed or he didn't, they would still make money, and I've had conversations with certain people at that company who have said exactly that to me.
"If they would like me to go to court, the Jackson family, I will stand up and tell you who said that to me."
- Bang! Showbiz