With camp costumes and catchy pop, Abba ruled the 1970s. Now they're back - in a permanent exhibition.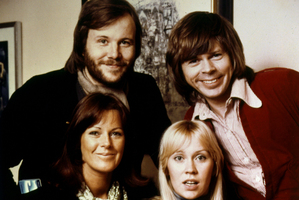 Not long ago, Bjorn Ulvaeus tried on one of his old Abba stage costumes.
"Not for any reason, just to see if I could get into it," he says. "It was okay, I could get into it. It was from the last tour, a little more sophisticated than the early ones, but still very tight. I looked ridiculous, but ... there were no pictures, so that's all right!"
Genial, twinkly-eyed Ulvaeus, 68, is sitting with me, talking about the Abba museum, part of the Swedish Music Hall of Fame, due to be opened at Djurgarden in Stockholm. Far from a pile of mothballed spangles and silver platform boots (though what's wrong with that?), it sounds like a high-end, interactive affair.
As well as costumes and exhibits, there are sets representing key Abba moments, and visitors can pose with virtual band members, wear virtual costumes, remix tracks, and re-access their experience on their computers later.
Ulvaeus got involved in the museum to ensure its quality, and views it as "a museum of a pop phenomenon, interesting to anyone who is interested in music.
It could be seen as narcissistic to have your own museum," says Ulvaeus, whose speaking voice is wonderfully gravelly, "but for me, it's such a long time ago - I have perspective. That young man in the funny clothes - he's almost a stranger, so I can tell his story."
If Abba don't deserve their own museum, then what band does? They've sold 378 million albums worldwide, the Mamma Mia! stage show and subsequent film were global mega-hits, and Abba Gold is one of the bestselling albums of all time.
And lest we forget, they were brilliant. With classics ranging from their 1974 Eurovision winner Waterloo to 1980's The Winner Takes It All, Abba remain pop's undisputed heartbeat. Ulvaeus and Benny Andersson were the Swedish Lennon-McCartney (albeit with star-shaped guitars), while Agnetha Faltskog and Anni-Frid Lyngstad possessed the purest phrasing.
Any scary fans? "Agnetha had a few, but I never had them," says Ulvaeus. (Faltskog had a relationship with a man who, after they had split, went on to stalk her.) The rest was a blur of songwriting hyper-creativity, perhaps aided by the fact that Abba initially comprised two couples (Ulvaeus with Faltskog; Andersson with Lyngstad).
"It certainly made life calmer - to be two married couples," says Ulvaeus. "No drugs. No groupies. Nothing like that. I'd got that out of my system before the group.
"By the time we were in Abba, the music was the only important thing." That said, Abba didn't stint on visuals. In an era dominated by glam, they managed to out-camp everybody with serial offences against snug-fitting spandex and satin, and that was just the men.
"Some of the costumes were over the top," laughs Ulvaeus. He particularly remembers an "incredibly tasteless" Superman number which is now in the museum. "There was never any image-consciousness. We were just the country hicks, dressing up, having fun, never taking life seriously. The music was where the seriousness was."
There won't be a comeback. When Abba disbanded (the women to pursue solo work, the men to write musicals), they presumed they would reform later - it just never happened, which Ulvaeus now thinks was for the best.
"When Led Zeppelin reformed, Robert Plant said: 'We've become our own covers band.' That's so spot-on." There's a possibility that Faltskog may not be able to attend the museum opening (she's promoting A, her first album in nine years), though the other members are likely to be there. Ulvaeus says that everyone is friendly ("We have an ongoing email exchange"); he and Faltskog have three grandchildren, and he still works with Andersson.
"It used to be 50-50, but these days he does music, I do lyrics. We met in '66 and we're still here. We're like brothers." More than 40 years since Abba started, Ulvaeus is still trying to make sense of it all.
"Emotionally, I'll never be able to grasp that people will be walking through a museum, looking at our story," he says. "I'm just in awe, grateful and humbled by it."
-Observer