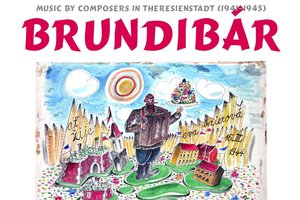 The Nash Ensemble's latest CD brings together a group of composers who shared a similar grim fate.Brundibar is a collection of chamber works by Hans Krasa, Viktor Ullmann, Gideon Klein and Pavel Haas, four Czechs who perished in the Holocaust.
Inevitably, the set is dominated by the Brundibar of its title, an opera by Krasa that was actually staged at Theresienstadt concentration camp. One special performance was even set up in 1944 to assure the visiting Red Cross that, under Hitler, life was a cultural holiday camp for the Jewish people.
English composer David Matthews has arranged a suite from the stage work, cleverly incorporating the talents of nine musicians.
Krasa's music resembles that of Kurt Weill, although it lacks Weill's sardonic strain. Some pieces are sweet and sad, with just a tinge of klezmer; others are blithely carefree - ironically so, considering the situation of the original musicians.
The remaining composers are represented by works for string ensemble. Ullmann's Quartet No3 is an emotionally engaging score, penned in Theresienstadt in 1943, and includes a particularly haunting Largo.
Gideon Klein's Trio introduces itself with an infectious line in rustic revelry with eight lingering observations on melancholy in the set of variations that follows.
A 1925 quartet by Pavel Haas looks back to more radical and happier times, catching the Czech countryside with some startling effects, including a volley of glissandi in its slow movement.
The Nash Ensemble's performances are top-drawer, remarkably so with the various string groupings; as usual, the Hyperion recording leaves nothing to be questioned.
There are some who have inherited an aversion to Brahms through their exposure to too many unjustly dull and rather stodgy performances.
The Jerusalem Quartet's new Brahms CD sets off with an A minor Quartet that will likely win you over within a few phrases in its willowy first movement, then have you tapping your toes in a dancing Finale that's worthy of Dvorak.
Sharon Kam joins the four men for the composer's Clarinet Quintet, charting the same emotional journey but with more sepia-toned, opalescent textures.
Presumably a recording of the C minor and B flat major Quartets is not too far away.

Classic CD
Brundibar (Hyperion)
Brahms: Clarinet Quintet (Harmonia Mundi)
Rating: 5/5
Verdict: Top-notch ensembles lay bare the very heart of chamber music.