Go Girls' core cast has gone, but Nick Grant finds their replacements are every bit as good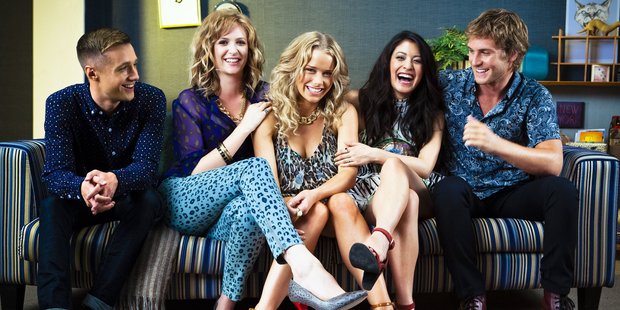 It's been well-publicised that season five of North Shore-set rom-com Go Girls features a handful of new lead characters.
That's partly due to the get-up-and-go of the original core cast making them increasingly unavailable, but it's also because their characters had grown past the "quarter-life crisis" that is the show's central concept.
Even with the presence of most of the McMann clan providing some helpful continuity (original Go Girl Britta McMann's younger sister Candy is one of the newbies), it's a bold move to replace all your main characters. ER is one of the few TV series that springs to mind as having pulled this off, and that was done incrementally over a 15-year run.
As the title of that show indicates, it was always as much - if not more - about the medical institution and its work as it was about any particular individuals the audience identified with.
So the question is whether Go Girls has a similar conceptual sturdiness or if the original cast's departure has drained the life out of it.
Now, I should admit to an agnostic attitude towards the show, having never been a regular viewer. Although I did watch it a few times when it started (and occasionally thereafter) and could appreciate the expertise with which it was made, I was bearing down on 40 at the time and was therefore as interested in relating to the concerns of a bunch of 25-year-olds as I was intrigued by the incessant yuppie whining on the late-80s' thirtysomething when I was 18. In other words, not even remotely, which means I'm approaching the refreshed show with no inherent preference for its previous incarnation.
With that in mind, what seems abundantly clear when watching season five's first two episodes is that it's the storytelling tricks and tics, rather than a specific set of characters, that are intrinsic to Go Girls' zesty appeal.
The real star of show is the distinctive style created by the writers, chiefly Rachel Lang, Gavin Strawhan and Kate McDermott. All the stylistic flourishes they introduced in the first episode are present and correct - most importantly, the narration and the fractured narrative flow, with its frequent use of freeze frames, fast forwards, flashbacks, fantasy sequences, and many other televisual tropes that don't begin with "f".
That said, no matter how good a script is, it's always "execution dependent". Those words on the page need to be brought to life by the collective efforts of a number of people, most of them off-screen, and it seems they've succeeded in spades.
But then, it's not me they have to satisfy, it's the already invested fans. Whether this new Go Girls elicits a collective cheer or jeer will largely depend on the established audience's expectations being met by the new characters and the actors who play them.
I reckon those cast members are sufficiently talented and charismatic to keep the series rolling along for a while yet, if not enshrine it as an Energizer Bunny of New Zealand TV to rival the apparently eternal Shortland Street.


Go Girls gets going again on Tuesday. 8.30pm, TV2.