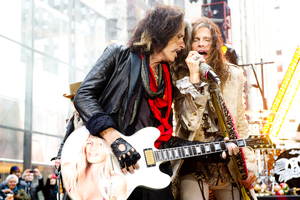 Aerosmith fans are crying foul over last-minute discounts to boost ticket sales for tomorrow's show at Forsyth Barr Stadium in Dunedin.
It was confirmed yesterday fewer than 17,000 tickets had so far sold, dashing hopes of a sell-out, 40,000-strong crowd touted when details of the US rock band's show were announced in February.
Concert organisers now hope for a crowd of 18,000 to 20,000, but insist the event will be profitable.
However, the show's promoters have responded by releasing discounted tickets online, prompting some fans who earlier purchased full-price tickets to vent their frustrations.
Upset fans on the stadium's Facebook page warned they would no longer support events at the stadium, or would wait longer before buying tickets, but others defended the discounts.
The deals included half-price restricted view tickets for $49 and access to the "silver" section of the pitch, together with an offer of some free food and drinks, for $99, down from $149.
Dunedin Venues Management chief executive Darren Burden distanced himself from the discounts yesterday, saying in a statement they were "an initiative of the promoter and not supported by Dunedin Venues".
DVML asked the promoter to withdraw the discount offers yesterday.
The Aerosmith concert was announced by Australian promoter McManus Entertainment, but was being organised by the company's New Zealand agent, Jacman Entertainment.
Jackie Sanders, the owner of Jacman Entertainment, said the discounts aimed to fill gaps in "cheaper" areas that were difficult to sell.