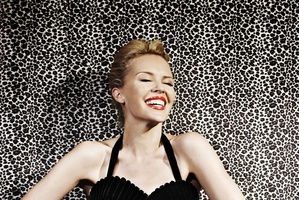 Kylie Minogue is "very much in love" with Andres Velencoso.
The All the Lovers hitmaker is smitten with the Spanish model - who she has been with for almost five years - and her friend Mathew Horne thinks they'd love to have a family together.
Mathew - who has worked with Kylie five times - said: "He would totally emasculate me due to his height and exceptional good looks. I've heard he's lovely.
"They are very much in love. I think she wants to [have kids]. Andres is obviously the guy for her. I don't think it's a secret that she would like children."
The Australian singer and the Gavin & Stacey star first met on the set of TV special The Kylie Show in 2007, and like to catch up over dinner whenever they're in the same country, though it isn't always easy.
He said: "She's always off jet-setting, but we talk on the phone. And we got for dinner, but she has to go out in disguise and hide behind vases of flowers in bars, otherwise she gets mobbed."
The pair star together in Hey Diddly Dee, which is part of Sky Arts' second series of Playhouse Presents original drama, and Mathew revealed he encouraged Kylie to sign up.
He explained to Britain's HELLO! magazine: "The guys at Sky actually got me to approach her because we've known each other a long time and she listens to me. I think she trusts my judgement about what's worth doing."
- BANG! Showbiz