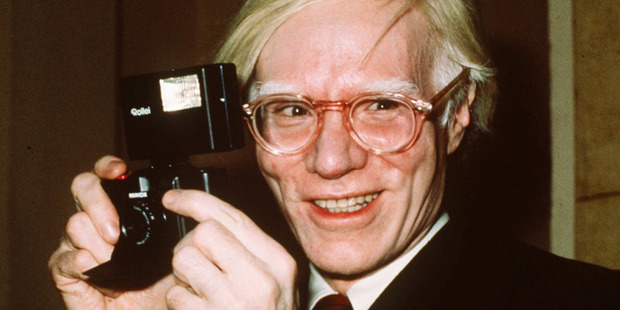 In the early 1960s, Pop art in America was bright, bouncy, cheerful and facile. Andy Warhol revelled in the superficial - "if you want to know all about Andy Warhol, just look at the surface ... there's nothing behind it," was his own self-assessment. But at that stage of his career he preferred to gaze upon the dark side. His Disaster screenprint series, which began in 1963-64, was inspired by magazine and newspaper images of car crashes, suicides and crime scenes; another source was a New York cop who gave him gruesome photos.
Warhol also appropriated a 1953 wire service picture of the electric chair - known as "Old Sparky" - at Sing Sing Prison near New York, and repeated it in variations of colour, shadow and light.
Although Warhol always insisted his work had "no meaning", art historian Norman Bryson called Warhol's Electric Chair series "the ultimate still life", and the chilliness of the unoccupied chair in that lonely, horrible room still reverberates.
Gow Langsford Gallery has two Electric Chair prints from 1971 - he returned to the subject over a decade - in its new Andy Warhol show.
"It is a very powerful image," says Gary Langsford. "If you look at it as a piece of formal work, the composition is very grid-like. You remove the literal object, the chair, and reduce it to lines and squares and it's almost a Mondrian, it is that formal."
Warhol's Electric Chair has inspired legal studies papers, including one published in the California Law Review by Princeton University associate professor of law Bennett Capers, who notes that the Andy Warhol Museum in Pittsburgh held an exhibition of the series in 2003 in a bid to generate debate on the vexed issue of capital punishment in the United States.
Bennett notes that the original photo, now kept in the Warhol Museum archives, bears a label identifying the chair as the one in which American spies Julius and Ethel Rosenberg were electrocuted in 1953.
In 1964, the last man to die in the Sing Sing chair was Eddie Lee Mays, the 614th man to die on Old Sparky.
There are layers of meaning when you stare at Electric Chair. America has a long history of public executions with, at times, thousands of people clamouring to witness the deaths. Today, members of a victim's family may still watch. By gazing from the outside in to the chamber, we too are standing in those witnesses' shoes. But, writes Capers, by removing the condemned person from the chair, Warhol has made "him both no one and everyone".
Never think that Warhol created the images in a bid to display empathy or social conscience. "There was no profound reason for doing a death series," he told a reporter in 1966. "No reason for doing it all, just a surface reason."
He would probably be amazed to see how well the works have endured.
"I think it is one of the iconic Warhol images without a doubt," says Langsford, "but it may not be as familiar to New Zealanders as the Marilyns."
The Marilyns is Warhol's series of Marilyn Monroe portraits, each one the same image based on a publicity photo from her 1953 film, i Warhol cast her in flavours - Peach Marilyn, Cherry Marilyn; at Gow Langsford the single Monroe work is titled Marilyn #23.
"Despite its artificiality, there is a vulnerability, a resigned and knowing sadness in the Marilyn portrait," write Warhol biographers Tony Scherman and David Dalton, who add that "separated from its context, which the viewer provides, it is a fuzzy, out-of-register, garishly hued picture of a face ... this is a game that Andy's playing with the viewer."
The Gow Langsford show also includes a large blue Mao portrait,
Top, Electric Chair 11.74, 1971, and (above) Campbell's Hot Dog Bean Soup, 1969.from a 1972 series based on a photo of the former chairman of China's Communist Party rendered in different colours. Mao was his first non-American subject, and Warhol made the series after President Richard Nixon's visit to China, with critic Roberta Bernstein judging them as a parody of "the seemingly endless number of posters and billboards of Mao in China".
Chinese authorities have banned the Mao portraits from a touring exhibition of Warhol works that moved from Hong Kong to Shanghai last month. According to the Times, the Ministry of Culture has ruled the silkscreens "won't work" for Chinese audiences.
"This is disappointing," Andy Warhol Museum director Eric Shiner told the Times, "because his [Mao's] imagery is so mainstream in Chinese contemporary art."
"It's bizarre that they have been taken out of the China shows," says Langsford. "They are not in any way disrespectful. This is literally just a portrait."
The Gow Langsford show also includes one of Warhol's Campbell's soup cans - Hot Dog Bean Soup (1969), three Skulls (1976) and a 1980 portrait of German artist Joseph Beuys who Warhol met at the Guggenheim in 1979.
The collection at the Gow Langsford in many ways represents the golden age of Warhol's screenprinting. As his fame accelerated, he acquired a taste for celebrity, amphetamines and manipulative eccentricity, surrounding himself with junkies, damaged souls and narcissists. He became obsessed with voyeuristic, sleazy filmmaking, creating works with titles such as ****, Bike Boys, Chelsea Girls and I, A Man. Hangers-on such as unstable "It" girl Edie Sedgwick titillated his viciousness. "I wonder when Edie will commit suicide," he is quoted as saying to a friend in the Scherman-Dalton biography. "I hope she lets us know, so we can film it."
Langsford used to see Warhol walking around the 26th St Fleamarket in New York in the 80s. "He was a great collector of art deco and you'd often see him there. He had the wigs on, he was deathly pale. He was a very weird guy."
You could never accuse Warhol of leading a boring life but he did pay a price. Before he was near-fatally shot by Valerie Solanas in 1967, Life magazine was set to feature him on its cover, which thrilled him - but he was bumped from that honour when Robert Kennedy was assassinated. Life's managing editor cursed the artist for "having injected so much craziness into American society that it was leading to the killing of the country's political heroes".
Time magazine went further. "To the extent that Warhol's art and lifestyle embody and glorify the abdication of moral responsibility and the condoning of petty viciousness and violence, they helped to create the atmosphere that made the Kennedy shooting ... Andy Warhol is an extraordinarily sinister, even wicked person."
Warhol died in 1987 at the age of 60, in hospital after what was supposed to be routine gallbladder surgery.
His Disaster works, for all his protestations that there was "no meaning", remain highly collectible and highly regarded. As New York dealer, and Warhol friend, Ivan Karp remarked, they were his best creations. "He was at the peak of his obsession when he made the Marilyns ... the Disasters. When he got to 1967, 1968, he had depleted his fantasy."