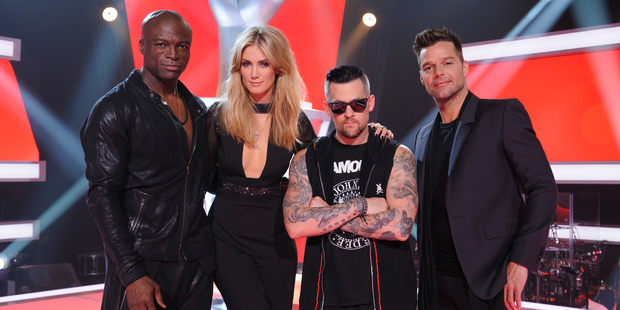 Picks of the week: The X Factor NZ and The Voice Australia
Who will be the next Stan Walker? Or even the next One Direction? Because you never know, the new Harry Styles and co could just be little Tommy Taylor and his mates from Timaru.
At least that's the sort of talent The X Factor NZ will be hoping to weed out when the Kiwi version of the Simon Cowell-created show starts on TV3 this week. Hosted by Dominic Bowden, and with a judging panel made up of former All Saint Melanie Blatt, Kiwi-born, British-raised pop star Daniel Bedingfield, up-and-coming local pop princess Ruby Frost, and the Australian Idol winner-turned-chart topper, Walker, the show kicks off with the auditions, where 6000 wannabes sang and strutted their stuff at cities and towns around New Zealand.
In the first episode, a brother and sister from Gore go against each other for a place in the competition, and the judges are blown away by a talented Kerikeri supermarket worker.
In the coming weeks, the successful contestants from the auditions head to "boot camp", and are split into four categories - under-25 boys, under-25 girls, over 25s and groups - with each group mentored by one of the judges. The final 12 will perform live each week.
Walker says the level of talent they came across was incredible. "It's so natural and undiscovered and everyone is really humble, it's the New Zealand way," he says.
Then again, as Bedingfield told TimeOut last week, if Mr Nice Guy Walker had his way he'd let anyone who was half decent through.
Yet Bedingfield agrees that there are great Kiwi voices out there - but only the very best will make it.
"I think these type of shows really have potential to bring the great talent forward. But I have no tolerance at all for bad music, and I've done everything I can to be sure average people do not get through, to protect the people with true talent."
Meanwhile, on TV2 on Friday nights, is the latest series of The Voice Australia, with its unique format and a focus on the quality of a contestant's voice. Australia has big pulling power when it comes to judges, with Ocker golden girl Delta Goodrem back in the hot seat along with Seal and Joel Madden, and Latin star Ricky Martin is the new judge, replacing Keith Urban.
The show starts with blind auditions; the judges-cum-coaches have their backs to the stage and select 14 artists to be on their teams, based on their voices alone.
The X Factor NZ
When: Sunday, 7pm; Monday, 7.30pm
Where: TV3
What: In search of a Kiwi pop star
The Voice Australia
When: Friday, 7.30pm
Where: TV2
What: Let me hear you sing
Nature pick: Chasing Ice
This feature-length documentary follows intrepid National Geographic photographer James Balog in his dedicated and dangerous work as part of his Extreme Ice Survey project. Using 25 time-lapse cameras set up at glaciers in Iceland, Greenland, Alaska and Montana, Balog's mission over three years was to give a visual perspective of how fast these icy areas are receding. As well as capturing stunning images, and witnessing "Manhattan-size" pieces of ice breaking off into the ocean, his main objective was to offer undeniable evidence about the radical impact climate change is having on the world. The documentary, by film-maker Jeff Orlowski, screened at last year's Auckland International Film Festival and also won best cinematography at the 2012 Sundance Film Festival.
When: Sunday, 9.30pm
Where: National Geographic
What: The proof is in the glacier
Drama pick: Puberty Blues
Short shorts, flares, sunshine, fruitily coloured home decor, Dragon's Are You Old Enough on the stereo - being a teenager on the south Sydney coast in the 1970s sounds pretty idyllic. But being a teenager in any era is a trial, as Debbie (played by Ashley Cummings) and Sue (Brenna Harding) well know. Based on the iconic Australian novel made into a feature film in the early 80s, this new series is a story of innocence lost and experience gained. Debbie and Sue are desperate to be popular and to have the surfer boys notice them, but it's closely guarded territory that sexually confident Vicky and Cheryl won't give up easily. Their parents are contrasting sides of the sexual revolution too. It's a time when the lines of propriety are shifting, and everyone hangs out at the surf club on a Friday night.
When: Sunday, 9.30pm
Where: TV One
What: Growing up in the 70s
Documentary pick: Oliver Stone's Untold History of the United States
Well, it was never going to be a comedy with that title. Oliver Stone's 10-part tilt at American history since it got the job of superpower is a serious undertaking for its creators - Stone worked with historian Peter J. Kuznick publishing a book in tandem with the series - and viewers alike. The director best remembered for his political movies, JFK, Nixon, Wall Street, Platoon, and Born on the Fourth of July, is probably the most left-leaning of Hollywood's old guard. That shines through in the first episode of Untold History, which shows this isn't so much uncovering secrets as dismantling America's authorised mythology about itself, starting with its role in the defeat of Nazi Germany and the real reasons behind dropping the atomic bombs on Japan.
When: Tuesday, 7.30pm
Where: History Channel
What: Stone's lectures in post WWII geopolitics
Anzac pick: The Forgotten General
Prime gets this year's Anzac commemorations off to an early start with this documentary about highly decorated World War I officer Major-General Sir Andrew Hamilton Russell, commander of the NZ Mounted Rifles at Gallipoli - they left their horses in Egypt - and later in charge of the 20,000-strong NZ Division on the Western Front. Despite his involvement in the disasters of Gallipoli and Passchendaele, Russell emerged with his reputation enhanced and returned home to a hero's welcome. His highly disciplined leadership style is examined in this doco directed by established Auckland TV and film producer Karl Zohrab, who features dramatisations of episodes in Russell's life and career.
When: Sunday, 8.35pm
Where: Prime
What: Portrait of a hero
See next week's TimeOut for Anzac Day viewing highlights.