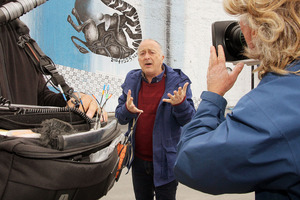 Tony Robinson credits the television series Blackadder and his role as the dim-witted Baldrick for giving him the chance to tackle more serious pursuits.
The History Channel star was in Christchurch and Wellington this week to film a section for the second series of the popular Tony Robinson Time Walks, taking an historical, contemporary and sometimes irreverent look at towns and cities across Australia and New Zealand.
In Christchurch, he has examined the sensational 1954 Parker-Hulme murder trial and had a wander around the earthquake-shattered city. In Wellington he interviewed Sir Peter Jackson, checked out Parliament and examined the Wahine disaster of 1968. The series is scheduled to screen early next year.
Robinson says he's "enormously proud" of his role in Blackadder despite being portrayed as an idiot.
He was 38 when he took on the Baldrick persona and already had 25 years of acting behind him after tasting the limelight as a child actor.
"I enjoyed the success very much," he said. "I revelled in it, but by that time I was a grown-up and I knew what was important and what was not. It's not a persona I need to shake off. To be honest, I've made so many documentaries since that time it doesn't really bug me if people want to believe I'm the stupidest person to stride the planet."
Robinson, 67, said Blackadder's success means the "office door is always open if I have a new idea".
He has a long interest in history and archaeology which has taken him around the globe for the History Channel's Time Team. His brief is to walk city streets discovering hidden treasures, meeting people and telling viewers about little known stories.
The team also spent time in the red zone, checked out the rising cardboard cathedral and visited the "fantastic 185 white chairs" memorial to those lost in the 2011 earthquake.
But he insists the Christchurch section of his series is "not a programme about the earthquakes".
He acknowledges the city faces a huge rebuilding job.
"It's an inspiring job," he said. "To come to a city like this you suddenly realise how fragile the whole human condition is ... that at any moment it can just disappear. To be confronted with that is salutary."