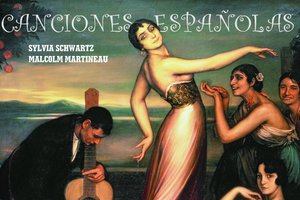 Late last year, Argentinian mezzo Bernarda Fink brought out an outstanding Harmonia Mundi collection, Canciones Espanolas, featuring songs by Manuel de Falla, Joaquin Rodrigo and Enrique Granados.
Just months later, Spanish soprano Sylvia Schwartz makes her debut on Hyperion Records with an identically titled venture, but casting her musical net more generously to include lesser-known composers Jesus Guridi and Eduardo Toldra.
Schwartz is one of the most versatile voices around. She has worked under the batons of Harnoncourt and Boulez as well as playing Maria when The Sound of Music received a Parisian opera house production in 2009.
Check out YouTube for War of Sopranos! in which she clowns around with Annette Dasch and Daniela Fally, dressed as Carmen, Brunnhilde and Adele, while delivering a charming trio by Friedrich Curschmann.
Schwartz opens her Canciones Espanolas with Granados' well-known song to the nightingale from his opera, Goyescas - a lush welcoming against the impeccable piano of Malcolm Martineau, registering every flickering inflection of the song.
Singer and pianist are a seamless duo in nine of the composer's Tonadillas en estilo antiguo. These are miniature theatrical "turns", ranging from a coquettish number titled Tra-la-la and a plucked guitar to the darker passions of three laments of a working-class woman.
Schwartz brings off the folk-like songs of Jesus Guridi (1886-1961) with utter naturalness, even when Martineau lets loose with a startling outburst of spikier harmonies and textures, occasioned by the heroine being caught in a forest thicket.
In Turina's Tres Poemas, the soprano glides from sinuous habanera to a soaring paean to nature, moving from gentle breezes to fires and weeping willows.
Two pretty songs by Eduardo Toldra (1895-1962), saluting the months of April and May, betray their composer's skill on the operetta stage, while Xavier Montsalvatge's Cinco Canciones Negras end the recital in more familiar terrain.
These popular songs, written at the end of World War II, couch cutting critiques of Caribbean colonialism within the music of languid habanera and soulful lullaby. The musicians catch both, to perfection, and the fierce dance rhythms of the final number remind us that these political issues still smoulder in 2013.


Classic CD
Canciones Espanolas (Hyperion)
Verdict: Versatile soprano pays tribute to the glories of the Spanish songbook.
Stars: 5/5