The director of string quartet drama Performance talks to Peter Calder about how he conducted his powerhouse cast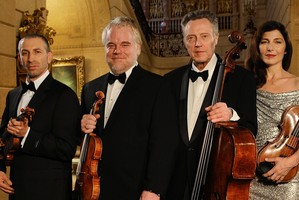 The leap from mathematics to movie-making may seem a long one, but Yaron Zilberman took it in his stride.
The Israel-born New Yorker studied maths and physics to masters level at Massachusetts Institute of Technology but never knew what he wanted to do as a career until he helped a friend make a documentary - and suddenly found his metier.
He doesn't see the move as an odd one: "Science was a step towards being a film-maker because it encouraged curiosity - I really wanted to know how the world works.
"The beauty about film-making is that every project is a new world, so you can really engage in researching and learning. It's very exciting."
His 2004 debut, the feature documentary Watermarks, which did not screen here, told the story of a Jewish women's swimming team in 1930s' Vienna, who fled the Nazi occupation and reunited decades later.
His first dramatic feature, Performance, which opens in cinemas next week, takes us deep into another very specific milieu: that of elite chamber music players.
The main cast is a revered string quartet, which is preparing to mark its 25th anniversary when the doyen of the group makes a shocking discovery that sets the cat among the emotional pigeons.
Zilberman does not include string virtuoso among his list of accomplishments ("I played the cello for a while," he says. "I can't call myself a musician, but I have an approach to the instrument and I can play a little bit.") but says he was entranced from an early age by classical music.
"I was in my mid-teens when I had my first experience of listening to chamber music. Somebody gave me a cassette of Miles Davis and the cassette clicked over to the other side and it was a Haydn piano trio - I don't recall which one. I do recall that it was the Beaux Arts trio, with Menahem Pressler on the piano and, in the movie, Wallace Shawn's character is a homage to him because he is a Pressler type of person."
The world of chamber music became a logical setting for the film he wanted to write, he says.
"I wanted to tell a family drama, as a way of discussing my family, my biography, the things that interested me. And I saw the string quartet as a kind of family.
"I would say it's a family on steroids. It's more intense than most families. Many wives and husbands of quartet members complain that the marriage is secondary to the time and intensity and energy they put into the quartet."
For a newcomer to the business, Zilberman assembled a powerhouse cast: Philip Seymour Hoffman and Catherine Keener play husband and wife, and Christopher Walken is cast boldly against type as the quartet's leader and steadying hand. I suggest to him that such casting implies an enormous power of persuasion, and he adopts a "what can I say?" tone.
"I sought to make characters that would be alluring for actors," says Zilberman. "I knew that he was looking for a 'normal-person' sort of role and I thought it would be amazing to have him play against type.
"I have seen him on Broadway in the theatre and I know that he has an amazing presence. And he delivered: he made the role so heartwarming but never sentimental. He was perfect."
One of the film's singular achievements is to make the musicians' fingering plausible - something that has eluded film-makers ever since the first screen cowboy played a guitar by the campfire. Zilberman prepared a demonstration of how they could tackle the music-playing on camera when he was trying to attract the actors he wanted "and that was an important element in making them feel comfortable".
Then, in pre-production, he filmed a quartet playing the Beethoven piece the film is built around, and edited the short segments that he wanted to shoot.
"So each actor had a DVD with a menu showing the shots - 10 to 20 seconds - of what they had to master. Then each was assigned a coach who taught them how to fake-play these segments. For professional string players, it will call for some suspension of disbelief, but not for the rest."
Take a bow
Like the instrument she plays in Performance, Catherine Keener only gets better with age. The 53-year-old, who was Oscar-nominated for her roles in Being John Malkovich (1999) and Capote (2005), plays the string quartet's viola player and says it was no mean feat to fake it.
"I approached it with as much practice and time as I could," she explains. "I had great teachers and was preoccupied with it for months. I started at home in Los Angeles, where I've long held an appreciation for music. My 13-year old son Clyde is a cellist and his dad [her former husband of 17 years, actor Dermot Mulroney] is also a cellist, though I'd never played any instrument myself. It's really an amazing accomplishment just to learn how to hold a bow properly. It's really wild."
Keener was also greatly inspired after attending a concert by the Brentano String Quartet playing Beethoven's Opus 131 as the actors do in the movie (and the Brentano Quartet provides the film's score). Still it wasn't as if she continued playing after filming.
"I do have my bow and my case but the thing is, we got to play the most incredible zillion-dollar instruments that were amazingly beautiful.
"You could actually draw a lot of inspiration from just looking and feeling and thinking about where they've been as they're 100 and 200 years old. The stories, the provenance of these instruments alone - they were incredible."
Performance is Keener's fourth film with Philip Seymour Hoffman, who plays Robert, her husband and the group's second violinist.
"Robert and my character were connected through the group," explains Keener, "so it's a big reckoning especially when people become older and feel like their time has come with what they do professionally."
"Phil and I played best friends in Capote and then we played husband and wife in Synecdoche New York where it wasn't so nice. It was very loving on this film and in a sense we drew on our friendship. When the stakes were raised Phil and I went there together."
Keener has occasionally appeared in commercial movies mostly as strong-willed wives or partners. She was Steve Carell's love interest in The 40-year-old Virgin and in animated film The Croods she voices Ugga, the wife of caveman Grug. Her most high-profile upcoming film could be Sony's Captain Phillips in which Tom Hanks portrays the man who in 2009 gave himself up to Somali pirates in exchange for the safety of his crew. Keener plays his wife Andrea, a woman with a steely resolve who, as the blurb puts it, "remains strong throughout the hostage ordeal, never losing faith in her husband".
Performance offers an insight into the personal intrigue and sexual shenanigans of supposedly conservative classical musicians.
"What happens in the movie is apparently true," Keener notes with a chuckle. "There's all this heat with all the music and the beautiful instruments and it gets pretty hot. It's very sensual."
Who: Yaron Zilberman, director
What: Performance, his movie about a string quartet starring Philip Seymour Hoffman, Christopher Walken, Catherine Keener
When: Opens at cinemas on Thursday
- TimeOut